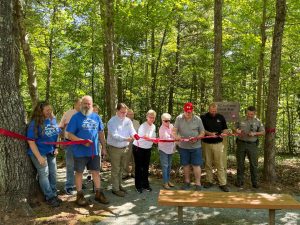 A ribbon cutting to celebrate the opening of the Greater Bassett Area Community (GBAC) Spillway Overlook Trail at Philpott Lake.
This new 0.4-mile pedestrian trail begins near the Philpott Lake Visitors Center and allows visitors to walk through the Philpott Dam Spillway.
Chris Powell, Philpott Lake Operations Project Manager, said when the park first started the project, it knew it had the perfect location, but didn't know how to get there.
"With the help of Harvest (Foundation) we stumbled upon their Project Hope grant and got $10,000 to make this trail actually happen. We're excited about that, and we're thankful for our partners at GBAC, they were our fiscal sponsors," he said.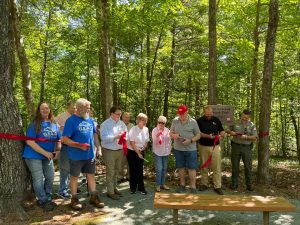 Brian Stewart, a biologist, said the trail ends at the new overlook of the Dam Spillway.
"That's what this trail actually started with was an idea of 'wow, this would be a beautiful spot, and how can we get people here,'" he said.
Stewart said grant funds helped cover the cost of trail signage, blazing, trail structures, and materials in areas where they were needed.
"It definitely helped out a ton getting that money from the Harvest Foundation and working with GBAC to expend those funds. It's been a great project, and we appreciate the help we got," he said.