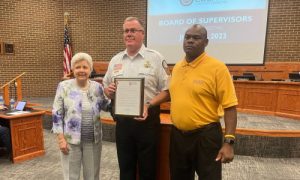 The Henry County Board of Supervisors presented a resolution honoring the service of Sheriff Lane Perry at its June 27 meeting for his 30 years of dedicated service to the county. 
Perry, who will retire on June 30, has served in several roles, including correctional officer, patrol, investigator, and captain. He has served as sheriff since 2006.
Debra Buchanan, of the Horsepasture District, read a resolution that was later approved by the board in honor of Perry's tenure. 
"Whereas the health and safety of all our residents is important to the happiness, prosperity, and wellbeing of our families and communities, and whereas law enforcement officers serve as pillars of the community, upholding a democratic structure that shelters the helpless and renders justice to those that seek to harm them," she read.
Noting that county officers are committed to the highest standard of professionalism and serve the public, Buchanan said "One such officer, Sheriff Lane Perry, has served our community for more than 30 years."
Initially hired to work in the jail, Buchanan said Perry "has served in a variety of capacities, from patrol to investigation to vice." In each role, he served with the utmost character, representing the values of respect, honor, and duty … of the office.
"Throughout his service to Henry County, Sheriff Perry has remained an advocate for his officers and has sought to enhance their careers by securing funds for new equipment and by facilitating new training opportunities," she said.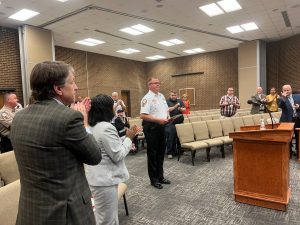 Buchanan said Perry also balanced the need for a strong sense of justice in the community with the desire to successfully reintegrate inmates into society with the push for the new Adult Detention Center.
"The good Lord's blessed me. I've been blessed with my wonderful wife and two outstanding daughters. They've been right beside me," Perry said. 
"I've been blessed with some awesome coworkers," he said, as his voice wavered with emotion.  
After the board meeting, Perry said that although Henry County is large enough to command certain amenities, "it's small enough that you still get to know a lot of people across the county."
It is through conversations with some of those people that Perry said learned he had a positive impact on many of those he met during his more than 30-year career. 
"I've had people that I've arrested before come up and thank me for how I've treated them," Perry said. "I had a man that at one time" had legal issues, Perry said, adding that person "actually told me afterward that he was being a better dad" due to the intervention.
"When people come back up to you when you've had to stop something that they were doing that was hurting their lives or someone else's, and then they come back and tell you how their life is turned around," Perry said that is a signal that his work has been a success. 
"I've seen and had a few some of the youth that I've talked to, and then also the coworkers the last few weeks with the retirement, coming up and" saying, "'you did this," and it helped, Perry said, adding he will cherish those exchanges.
"It really meant a lot. Those types of conversations have been really good."
Going forward, "I wish the best for the county, and the office, and in exiting, I tried to set it up so that it continues with integrity and professionalism. No one wants to see their work go backward. That's the reason I'm exiting the way I am and hoping it can continue and that services can continue, and hopefully even see the things that can be improved," he said.
He credits the staff and officers in his department with its success.
A chronicle of "the last several years of our lives, the officers and the work that was done" included not only "the normal things that are happening in the community – which go from dangerous situations to minor situations, but then also, we never missed a beat through COVID. We actually had some increase in some of the violence through that time frame," Perry said.
"We spent a lot of time planning the Adult Detention Center, then coming into COVID, the protests, building the Adult Detention Center, and then the hiring, so the last five years not only has it been normal work, but it's almost been like pulling a double load of work, and through that, the men and women never missed a beat. We carried a high solution rate, we achieved all of our goals to meet those obstacles, and I'm very proud of what's been accomplished," Perry said. "As I always say, I give all the credit to the men and women in the office and all the glory to God."
If he has an enduring legacy, Perry said he hopes it will be that he cared about people, listened to people, and upheld "righteousness without any question of its integrity." 
His short and long-term goals in "this next portion of my life, I want to spend more time with my family. I have an awesome family that has stuck by me and also had to bear some of the hurts of and burdens of this job," Perry said. "It's time I spend more time with them and enjoy it."
But old habits aren't easily broken.
Although Perry has dedicated much of his time and energy in service to the community, he pledged to continue if needed, by helping Davis "in any way I can, and as long as needed." 
In terms of another career, Perry, 54, said he is leaving his future in God's hands. 
"This is a faith step. This is all faith," he said. "I'll just wait. Whatever the Lord leads me to do, I will do."