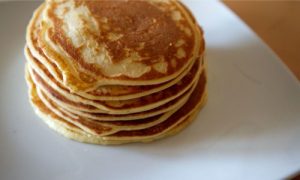 Kiwanis Pancake Day will be held on Thursday, October 12, serving from 7 a.m. until 6:30 p.m. in the Broad Street Parking Lot, Uptown Martinsville. Prices are $8 at the door for all the pancakes you care to eat, one serving of sausage and a beverage. Eat in or carry out (but not both).
All proceeds benefit the Kiwanis Youth Foundation, which funds projects that help children and youth in Martinsville, Henry County, and beyond.
Advance tickets are $7 and are available from members of the Martinsville Kiwanis Club or:
Anchor Commission, open 9 a.m.–5 p.m., located at 313 East Market Street, Martinsville. Ask for Ricky Walker. Call (276) 634-2910 office or (276) 403-4719.
Hairston Funeral Home, 301 Fayette Street, Martinsville. Ask for Kerry Smith. Call (276) 632-3336.

Martinsville Family Dentistry, 25 Cleveland Avenue, #A, Martinsville, or call (276) 632-6219.
Call before making a trip. For more information, contact info@kiwanismhc.org.