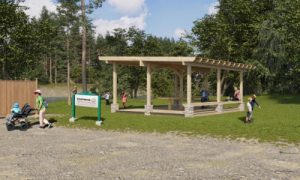 Just in time for Earth Day, DRBA is announcing plans for an outdoor classroom to be built this summer along the Smith River in Henry County, Virginia. The outdoor classroom is sponsored by Eastman Performance Films located in Fieldale, Virginia. The outdoor classroom will be called the Eastman Smith River Eco-Learning Station.
Beginning in 2018, the Dan River Basin Association (DRBA) and Eastman partnered together to design the Eco-Learning Station at the Great Road River Access. This exciting project was expected to be completed in two phases and would provide a learning site for hundreds of regional students to experience environmental education outside of their normal classroom setting that will help them to excel in STEAM and drive community environmental initiatives. 
"We are excited to sponsor this wonderful learning environment for our lo
cal schools and community," said Kristoff Lievens, Eastman Performance Films site leader. "Teaching our children about the importance of the environment and conservation is essential and we look forward to the many opportunities this new outdoor classroom will bring to our area."  
Phase I of the plans included a ground level boardwalk and educational signage. The boardwalk was completed in 2019. Phase II is to be completed by fall 2023 and will include pavilion design, construction and materials, along with interpretive signage.
Located near a flood plain, the pavilion will be open-air concept with a roof. Educational signage selected with input from local teachers will include the Smith River Ecosystem, Water Cycle, Life of the River, and the Importance of Riparian Buffers. Potential accessories include tables and/or benches. 
"DRBA hosts hundreds of students annually at the Great Road River Access through the Trout in the Classroom program," says Krista Hodges, Education Outreach Manager. "Students release trout fingerlings every spring into the Smith River while learning about the importance of water quality, river ecology, conservation and the life cycle of the trout through this hands-on environmental education program. We look forward to working with students from around the basin at the new outdoor classroom."
The pavilion will primarily be used for educational purposes and open for local teachers and schools in Martinsville/Henry County to use on a first come, first serve basis. In addition to an outdoor learning space for regional students, the site will also provide outdoor space for visitors and a site for Citizen Water Quality Monitoring of the river. 
The outdoor classroom project includes matching funds through the Virginia Department of Forestry Urban and Community Forestry Grant Assistance Program.
The Great Road River Access is owned and maintained by Henry County Parks and Recreation.
The Dan River Basin Association is an environmental non-profit that protects the region's natural assets such as the Dan River and its tributaries. DRBA is working to promote tourism as well as healthy lifestyles. DRBA assists localities in creating community parks, trails and access to local rivers and streams. Our mission is to protect and promote the Dan River Basin through recreation, education and stewardship.
Visit www.danriver.org to learn more about protecting and conserving our local natural resources and how you can get involved in your community.