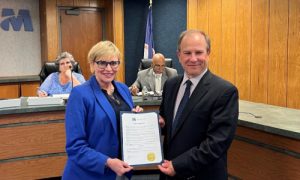 Martinsville City Council members heard a proposed spending plan for the upcoming fiscal year at a meeting Tuesday.
In presenting the $109,892,325 proposed budget, City Manager Leon Towarnicki noted it represents an increase of $4,047,643 over the current budget.
The general fund revenue for FY 24 is projected to be $33,856,203 from sources that include taxes, fees, recovered costs, grants, and state funding. 
The total represents a 10.9 percent increase as a result of increases in property taxes, local taxes, recovered costs, shared expenses, and other state reimbursements. 
An 8 percent electric rate increase is proposed to take effect on July 1. 
The electric budget for FY24 is $24,189,063 and the purchased power item is $17,500,000 and represents 72.3 percent of the electric budget. 
The city anticipates an additional electric rate increase in January 2024.
It has received $15,463,451 in American Rescue Plan Act funds (ARPA) – some of which have been committed for specific purposes. 
In other matters, the council: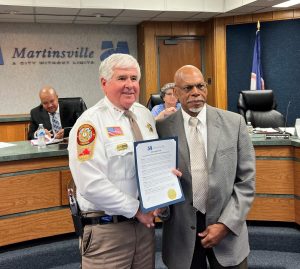 *Heard from representatives from the Martinsville Henry County Coalition for Health and Wellness, which ensures that everyone in the community has access to healthcare regardless of their insurance status as their primary focus.
The coalition operates two federally qualified health centers: Bassett Family Practice and Ridgeway Family Health. The coalition is also responsible for the Community Dental Clinic in Uptown Martinsville. Representatives noted they are available to visit civic groups/church events to provide a health fair, if interested. Anyone interested may call Ridgeway Family Health at (276) 956-2233 and ask for Chasity Gravely to coordinate the visit.
*Heard from Jeff Sadler, owner of the former McCollum-Ferrell building in Uptown Martinsville, who is requesting classification of the property as mixed use to add roughly 10-12 apartments along with retail space. He expects the units to be between 475-1,100 square feet, with rents from $850-1,650 per month. Three of the units would be "live/work" apartments and include a workshop or office space. Sadler is seeking a grant from the Virginia Department of Housing and Community Development for gap financing to fund the renovation project and approval of a resolution to proceed. Upon approval, Sadler said he believes the project could be completed within nine months.
Council members supported the project but were not ready to approve the resolution.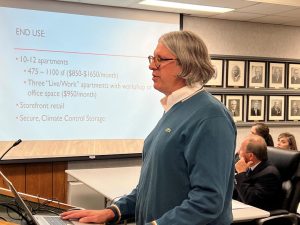 "I want to see that building back in use, but I would love some time to read through the paperwork," Vice-Mayor Aaron Rawls said. 
The issue will be taken up at the next council meeting.
*Discussed some concerns following a neighborhood tour of Northside on Monday that was followed by a meeting at Chatham Heights Baptist Church. There, a resident noted that there was an issue with trash along Clearview Drive, possibly due to uncovered transport vehicles. Another resident noted an issue of individuals not using the sidewalk on Chatham Heights, which poses a hazard to both drivers and pedestrians. Junk cars and four-wheelers were other issues.
*Hannah Powell of Martinsville's Community Development Office, recently worked with Darden Business School students at the University of Virginia on current financing options in Martinsville. The team gathered both quantitative and qualitative data over a period of months. A survey was conducted online, and a public meeting was held on March 30, she said. 
*Recognized the week of May 7-13 as National Correctional Officers and Employees Week in Martinsville; April 28 was recognized as Arbor Day.
*Learned that a number of fire hydrants that were noted as not operational have been repaired and returned to service.
*Heard that on May 4, a grand opening for the Center of Housing Education will be held. The center is located at 51 East Church Street, in the Chief Tassel Building. The agency represents an expansion from Danville. The organization helps individuals with financial literacy, preparation to purchase a home, and a down payment assistance program.