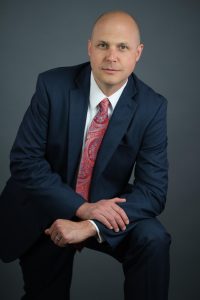 Incumbent Commonwealth's Attorney, M. Andrew Nester, plans to seek reelection to the Chief Prosecutor's post in the November 7 general election.
Nester was appointed Commonwealth's Attorney in July 2013, elected to the position in a special election held in November 2013. He has continuously been reelected to serve in this position in two prior general elections.
Before becoming Commonwealth's Attorney, Nester began his career with the office as an Assistant Commonwealth's Attorney in 2005. He was promoted to Chief Deputy Commonwealth's Attorney in the spring of 2013.
Nester, 42, said he is proud of the many accomplishments his office has made since taking over as the chief prosecutor in 2013. 
"Our office has been successful in holding violent criminals and drug dealers responsible for their crimes by securing lengthy prison sentences for these individuals and thereby protecting our locality," Nester said. 
"My office has also aggressively pursued defendants placed on good behavior (unsupervised probation) by the Courts and held them responsible for violating the terms of their good behavior. Furthermore, with the help of our Victim-Witness Office, we have actively pursued individuals who fail to pay court ordered restitution to victims of crimes. These actions have resulted in activation of suspended jail and prison time and fines being imposed on defendants that may ordinarily slip through the system's cracks," Nester said. 
"If you commit crime in Henry County, you will be held responsible for your actions," he added.
Noting the continued efforts to punish drug offenders in the community by the work his office is doing through Civil Asset Forfeiture, Nester said that "since 2013, in conjunction with the Henry County Sheriff's Office and the Virginia State Police, my office has assisted in seizing nearly one million dollars in cash. In addition to cash, the assets seized include over 50 automobiles, multiple parcels of real estate, boats, tractors, utility trailers, multiple ATVs, and numerous electronics, just to name a few. 
"In addition to prison sentences and fines, I firmly believe this has a substantial deterrent effect to show those that sell or distribute drugs in our community that it is not a profitable venture and when we catch you, we will take the fruits of your enterprise," Nester said, adding "the money and other revenue generated from the assets seized and forfeited are divided among my office and law enforcement agencies to assist in covering some of our operational costs. This is a direct savings to the taxpayers of our county." 
His "excellent working relationship with the law enforcement community," Nester said "is certainly one of the keys that allow my office to reach successful outcomes in many of the cases we handle. By being reelected as Commonwealth's Attorney I intend to continue the development of these relationships as we work hand-in-hand to bring criminals to justice. I aspire to continue to work hard to obtain justice for victims of crimes in a fair and reasonable way." 
Nester feels a call to public service and such service is "near and dear" to his heart. Nester, who is a life member of the Collinsville Volunteer Fire Department, hopes to continue his public service by continuing "to serve the citizens of Henry County as its Commonwealth's Attorney. I want to continue to give back to this community by working hard to make it a safe place for all of us to live, work, worship and raise a family." 
A Henry County native and lifelong resident, Nester and his wife, Christy, have two sons, River and Tyde.
He is a graduate of Bassett High School, Ferrum College and the Appalachian School of Law. Nester is a member of the Rich Acres Christian Church where he also serves as an elder.