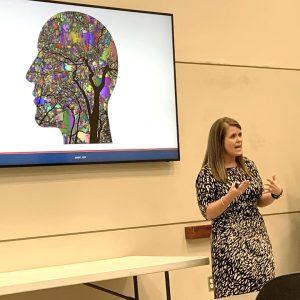 The New College Institute (NCI) hosted Dr. Challen Mabry, recipient of the 2022 Lula White Johnson Distinguished Teacher Award, on April 27, as she presented "Organizing Resilience Across the Lifespan Through Attachment" to an engaged audience.
Dr. Mabry's presentation to the Martinsville and Henry County community was part of the award process for the Lula White Johnson Distinguished Teacher Award. The award includes a monetary prize and a plaque and is given to a faculty member selected from nominations by students, alumni, and staff at New College Institute.
Mabry's talk delved into the idea that creating secure emotional connections with children and maintaining mindful awareness throughout adulthood can lead to greater resilience, healing of past traumas, and stronger bonds with others. "Building secure attachments with children, and continuing mindful awareness as adults, offers an increased likelihood of resilience, healing traumas, and deeper connection with others," said Dr. Mabry.
Dr. Mabry is a highly esteemed and dedicated instructor who has gained the admiration of her students. "I can genuinely say Dr. Mabry is one of the most passionate, authentic, and driven servant leaders I have ever met. She provides academic guidance in a loving yet directive way," shared one of her students.
Dr. Mabry is a Licensed Professional Counselor in the commonwealth of Virginia and teaches in the Master of Arts in Counseling at Bluefield University in NCI's online program. She holds a BA from Hollins University in Psychology and Sociology, a MA.Ed in Counselor Education and a Doctorate of Philosophy in Counselor Education from Virginia Tech. She has additional focused training and certifications in Applied Behavior Analysis, Trauma-Focused Cognitive Behavior Therapy, and Equine Assisted Psychotherapy. Her professional experience has been focused on providing community based behavioral health services.
"New College Institute is incredibly proud of Dr. Mabry, and we are grateful for Bluefield University's partnership. Dr. Mabry's presentation brings such an enriching opportunity for citizens of Martinsville/Henry County," said Joe Sumner, Executive Director at New College Institute. "Folks from the local community as well as members of the NCI team and board enjoyed the opportunity to hear Dr. Mabry's presentation last night, and it was evident that she is certainly deserving of the title of Distinguished Teacher of the Year. From everyone at NCI, congratulations Dr. Mabry."
The Lula White Johnson Distinguished Teacher Award was made possible by an endowment established in 2010 in memory of Johnson who taught for several decades at the former Albert Harris High School and Martinsville High School.
The event was free and open to the public.