The Institute for Advanced Learning and Research (IALR) was awarded a grant of $230,000 from AmeriCorps, the federal agency for national service and volunteerism. The grant will fund the continued impact of the Regional Engagement to Advance Community Health (REACH) AmeriCorps program, which has provided public health workshops and educational opportunities in concert with the REACH Partnership since 2022.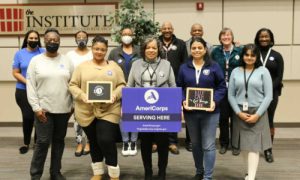 "We are so excited to see the positive and tangible impact that our REACH AmeriCorps members will continue making on health outcomes of individuals, families and the community as a whole," said Dana Silicki, Advanced Learning Program Manager at IALR. "This grant will allow REACH AmeriCorps to continue serving the Dan River Region by addressing health and education needs."  
"The REACH partnership is committed to addressing systemic barriers to physical and mental health services for at-risk populations, and health education outreach offered by the REACH AmeriCorps program is a key part of that," said Dr. Cassandra Shelton, REACH Program Manager. "The continued funding of REACH AmeriCorps will allow us to effectively and systematically improve health education and access." 
The REACH AmeriCorps program is dedicated to expanding capacity for public health service by providing direct outreach and education service in the City of Danville, Pittsylvania County and Caswell County (NC). Members provide individualized support, addressing the region's most pressing physical and mental health challenges through a diversity, equity and inclusion (DEI) lens. 
IALR is recruiting 15 part-time REACH Community Health Educators, who will conduct community health workshops over nine months in targeted census tracts in the Dan River Region. Workshops will be based on specific population health topics, addressing areas of high need and chronic health issues. Members will serve approximately 25 hours per week. 
In conjunction with the REACH AmeriCorps program, The REACH Partnership, an effort supported by The Health Collaborative of the Dan River Region, deploys Community Health Workers and Community Paramedics – referred to as coordinated care teams – to assist with an individual's physical and mental health needs and connect clients to community resources, addressing the myriad social determinants of health. The REACH Partnership includes the Institute for Advanced Learning and Research (lead and fiscal agent), Virginia Cooperative Extension, Piedmont Access to Community Health Services, Gateway Health, Sovah Health Danville, Compassion Healthcare, the Danville Life Saving Crew, Caswell County EMS, Danville-Pittsylvania Community Services and Danville Redevelopment and Housing Authority. The Partnership efforts are funded by a $6.3 million grant from the Danville Regional Foundation. 
AmeriCorps State and National, a federal-state partnership with a central role for Governor-appointed State Service Commissions, develops and implements state-specific national service programs. These grants allow organizations to recruit, train and supervise AmeriCorps members who are providing services to support education, disaster services, health, environmental stewardship, economic opportunity and service to veterans and military families. 
AmeriCorps State and National engages more than 65,000 Americans in intensive service each year. AmeriCorps members in the AmeriCorps State and National program receive a modest living allowance. At the successful completion of each service term, members earn a Segal AmeriCorps Education Award to repay qualified student loans and to pay current educational expenses at eligible institutions of higher education and training programs. Members who are age 55+ when they begin service may gift their Segal Education Award to immediate family members.