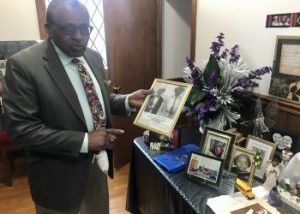 Pastor Tyler Millner, fondly called "The Rev," is looking forward to retirement after more than 50 years in the ministry. Although he toyed with the idea of going to law school earlier in life, Millner explains he was primarily positioned to enter the ministry. His mother, Reverend Almeda F. Millner, pastored their church for 39 years, and he tagged along with her his whole life. 
"I don't recall any part of my life without the church or its influence," Millner says. The church gave him the opportunity to share in worship experiences but also in community outreach. Through church outreach, he sought to right some social wrongs, give support to those who needed assistance, and bring some sanity to the marketplace.
He entered McCormick Theological Seminary in Chicago after graduating from Johnson C. Smith University in Charlotte, North Carolina. He served on staff at four different churches before returning home to pastor Morning Star Holy Church in Martinsville. A big motivation for Millner's return to Martinsville in 1992 was to preserve and protect his mother's legacy. As a minister, he said he wanted to offer his talents and skills to his congregation and community. Millner explains that while he felt he could have gone anywhere with his education, training, and talent, he wanted to give back to the community which loved and supported him from the start.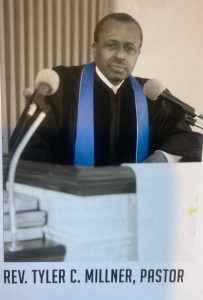 He said, "I wanted to move Morning Star out of Sunday morning listening to the sermon and into the community." Since becoming pastor of Morning Star, he has taken an active role in social justice. Some have called him a community pastor, while others called him an agitator pastor.
When Millner first returned to Martinsville, he says there was nothing but negative talk in the community. Drugs, church scandals, and corruption in leadership dominated the conversations. 
"I said, 'We need to do something that brings up something positive.' The Blue Ribbon Campaign was meant to amplify the positive things in the community to encourage others into getting active," he said.
The Blue Ribbon Campaign was a community-based marketing strategy meant to lead the congregation into the community and to be a mechanism for Millner to teach the church about social action and social justice. From that impetus, four core ministries began: citizen involvement in community affairs, education, intentionally mentoring young people, and encouraging citizens to vote. 
Blue Ribbon operated for about 18 years. The end result saw the church get involved in the community and build relationships with the two school divisions and colleges. He explains, "Our faith tells us we should be hopeful, and the Blue Ribbon was a practical way for us to live this faith out. The role of the church is to be a lighthouse and a means of hope. You can't do that if you just stay in the church."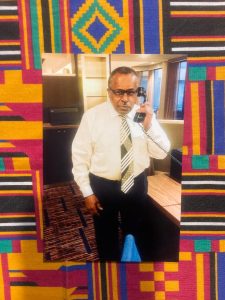 Some of his public activities included voicing his opinions on the state of education and community safety. Millner remembers that at a spirited meeting discussing the consolidation of schools, a law enforcement officer approached him. 
"I told him you don't have to monitor me and tell me how to act," Millner said. "I stood my ground. I'm proud of that." 
Another proud moment for Millner was the construction of a rail next to an embankment across from the church, as well as the installation of a traffic light near the church, two structures Millner argued for. These two areas were dangerous for motorists and pedestrians, and several people died before the rail and traffic lights were installed. 
When asked about his time in ministry Millner said, "I describe my own ministry as prophetic – to speak of the possibility of what can be, speak of what God says is not right or just, and to insist that elected officials be accountable and responsible. They need to know we are keeping account, and that has to be said in the public square."
Millner also invested time in preserving African American history, artifacts, and experiences, especially in a positive light. The church fellowship hall became a "teaching academy" for Black history. Millner's collection allowed community members to bring their children and grandchildren to the church to learn African American history hands-on. 
"I told the community to bring their children and sit for a couple of hours. Anything you talk about, there will be an artifact here that will be an expression of that," Millner said.
He explains that history is a good way of empowering and strengthening the family and church in order to advance and make progress. "Look at all the milestones and achievements African Americans made without the support and backing of others. They were told they can't do nothing or be nothing, but they rose to the top. This could get students excited about their own progress."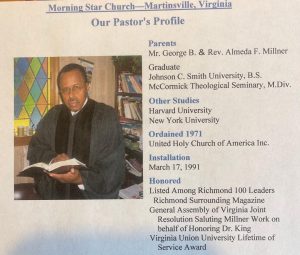 The teaching academy has since shut down, and most of the artifacts were given to Henry County schools. Administrators from the university and seminary are coming soon to look through what is left to see how they can be integrated into their institutions, and Millner is now looking forward to retirement.  He explained that it took a couple of years for him and the Lord "to come to an agreement" about his retirement, but once that was settled, he began feeling excitement. 
When asked what retirement looks like he responded, "It looks like doing nothing for a while! I'd like to have the experience of doing nothing for a while before I start doing something else." 
He specifically mentioned his desire to spend time with his family. 
"My family has been so gracious to lend me (to the community) and tolerate me being separated from them," he said. "They have been quite generous and understanding of my calling. I do appreciate that, and I hope I can make up for some of that by giving some back to them in retirement."