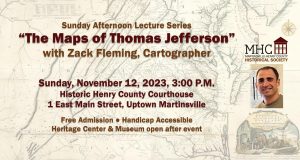 The Martinsville-Henry County Historical Society will host its monthly Sunday Afternoon Lecture, "The Maps of Thomas Jefferson" with Zack Fleming on Sunday, November 12, 3 p.m., at the Historic Henry County Courthouse, 1 East Main Street. 
The presentation will delve into Thomas Jefferson's interest in geography and maps and highlight a notable map created by his father, Peter Jefferson, in 1751, which played a crucial role in shaping early American history and served as a source for one of the most important maps in U. S. history. Lesser-known maps by Thomas Jefferson will also be explored as well as maps connected to him through the expeditions out west that he oversaw.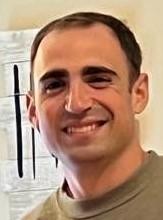 Fleming, a U. S. Veteran and former educator with Henry County Public Schools, is a cartographer. He served previously on the Board of Directors of the Martinsville-Henry County Historical Society. Visit his website at http://thegeographygeek.com/. Follow him on Instagram at http://instagram.com/thegeographygeek. Subscribe to his YouTube channel at https://www.youtube.com/c/GeographyGeek. Receive his newsletter at http://eepurl.com/hSeKpj. 
John Phillips, president of the Historical Society, said, "Our community is fortunate to have an accomplished cartographer such as Fleming willing to share his knowledge and passion. He is a descendant of Peter Jefferson's brother, Field Jefferson, which makes his lecture especially unique." 
Admission to the Sunday Afternoon Lecture series is free, made possible by corporate sponsors, Carter Bank & Trust and The Lester Group. The Historic Henry County Courthouse is fully handicapped accessible. The Martinsville-Henry County Heritage Center & Museum will be open following the presentation.