Ferrum College's Stanley Library will feature a Murder Mystery Escape Room through the end of September. The library added this new resource for learning last semester and will continue to reinvent the concept throughout this academic year.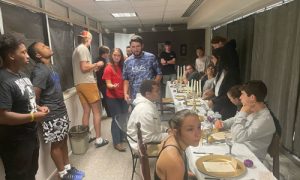 The idea came to be when library staff members were thinking of new outreach events for students. "We wanted to play with Valentine's Day and see about creating something that the English courses would be interested in using. Our first escape room was the Victorian Love Letters, and that really set the stage for the ones that followed. Two were completely virtual games: Banned Books and Misinformation, and two were physical games that also had virtual counterparts: Leave No Trace and Murder Mystery," said Interlibrary Loan Coordinator, Rachel Walton.
While trying to solve the mystery of the escape room, it is important for students to practice teamwork. "No matter what escape room we are doing, none of them can be completed without teamwork and creative thinking," Walton said.
Each escape room also has defined goals and outcomes. 
"This one focuses particularly on promoting deeper learning of critical thinking skills, knowing and learning how our escape room works, collaborating with faculty to create an exciting experience for students in the library, and just to have fun. We encourage professors to participate alongside their students," Walton said.
The themes of the room will change, and the next concept is already in the works. "Our escape rooms are almost always converted into virtual games once we take them down. The Murder Mystery virtual edition is currently under construction. We love changing rooms and designing new games. Sometimes, our escape rooms are requested; recreation leadership and ecotourism requested a Leave No Trace room, but largely we find inspiration in what's going on around campus, or just from talking to one another," she says.
This year, Library Assistant Danny Adams and Assistant Professor of English John Carey will help write future escape rooms with the goal of exploring outside partnerships. Depending on what partnerships develop, they will guide the style, games, and ideas that go into a new escape room. 
Virtual and previous escape rooms are added to the College LibGuides and can be viewed at https://libguides.ferrum.edu/.