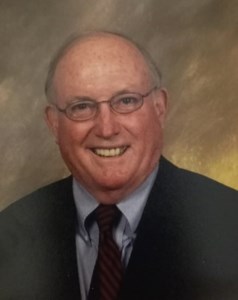 John Roger Abbott passed away peacefully September 18, 2023, at Spring Arbor Living in Greensboro, N.C. John was born on July 9, 1938, in Burlington, Indiana to the late John Edward and Florence Stanley Abbott. In addition to his parents, John was preceded in death by his wife of 54 years, Phyllis C. Abbott. He is survived by his children Anita Philpott (David) of Greensboro, NC; John R. Abbott, Jr. (Jennifer) of Mobile, AL; and Whitney Seate (Rob) of Charlotte, NC, and five grandchildren: Stuart Philpott, Kaity Abbott, Trent Philpott, Beau Seate, and Carter Seate. Also surviving are his brother James E. Abbott (Betsy) and sister Dianne Mathis (Barry) and special in-laws Maxine Gayle and Robert Perkins along with beloved nieces and nephews.
John graduated from Georgia Military College in 1958 and from University of Georgia School of Pharmacy in 1960. His first pharmacy job took him to Patterson's Drug Store in Lynchburg, Virginia where he met the love of his life, Phyllis Carwile, on a blind date. They married in 1962 and John was transferred to Martinsville where he remained a trusted pharmacist for Revco and CVS for over 50 years.
An active member of First Baptist Church of Martinsville for over 60 years, John sang in the Sanctuary Choir, taught Sunday School, and served as Deacon, where he had numerous terms including Deacon Chair. John was also an active member of the Martinsville community where he served as President of the Lions Club and President of the American Cancer Society.
In his retirement, John enjoyed golfing, traveling with friends and spending time with his family.
The family wishes to express their gratitude to the staff at Spring Arbor Living of Greensboro for their loving care of John and to the wonderful team from AuthoraCare Collective and their Hospice care.
Funeral services were held at 11:00 am Wednesday, September 20, 2023, at First Baptist Church of Martinsville, 23 Starling Ave., Martinsville, VA. Burial followed the service at Mt. Zion United Methodist Church in Rustburg, Va. The family received friends one hour prior to service in the parlor at First Baptist Church.
In lieu of flowers, memorial contributions may be made in memory of John to First Baptist Church, 23 Starling Ave, Martinsville, VA 24112 or to Mount Zion United Methodist Church, Attention: Cemetery Fund, 2604 Winfall Rd., Rustburg, VA 24588.
The service was live streamed and recorded at the following link: https://www.youtube.com/channel/UC7hL4nRdSG9uGQdJjfF-hVg
Online condolences at www.collinsmckeestonemartinsville.com.