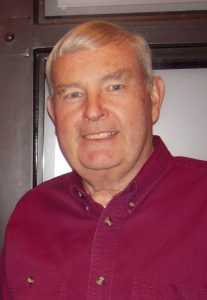 Emmett Leon Lawson, 82, of Ridgeway, Va. passed away on Monday, September 18, 2023. He was born in Patrick County April 22, 1941, to the late Thomas Johnson Lawson and Mattie Stovall Lawson.
In addition to his parents, he was preceded in death by his sisters Carrie Rakes, Elva Hazelwood, Mary Holt, Opal Turner, Jewitt Bullins and Virginia Lawson; and his brothers Hanson Lawson, Clarence Lawson and Bennie Lawson.
He is survived by his wife of 56 years, Janice Marie Burney Lawson of Ridgeway, VA, his daughter Emily Nelson (Erik) of Fairfax Station, VA, and his son Thomas Lawson (Heather) of Clover, SC. His grandchildren, Elizabeth Nelson, Catherine Nelson, Katie Lawson and Simon Lawson.
Mr. Lawson retired from Dupont as a Lab Technician.
A visitation will be held from 5:00-8:00pm on Friday, September 22, 2023, at Collins Funeral Home, Bassett, VA. A funeral service will be held at 3:00 pm on Saturday, September 23, 2023, at Living Waters Outreach Ministry, 6500 Greensboro Road, Ridgeway, VA and will be officiated by Pastors Bud Sedwick and Curtis Stump. Interment will follow at Mountain View Cemetery.
Collins Funeral Home, Bassett, Va. is serving the family.
To express condolences online, please visit www.collinsmckeestonebassett.com.