The Martinsville-Henry County Historical Society will sponsor "Courthouse Karaoke" as part of Sounds on the Square on Friday, August 4, at 7 p.m., on the Plaza of the Historic Henry County Courthouse. 
Admission is free. All levels are welcome. BJ's Karaoke will guide you through your performance – solo, duet, or group. Beginning at 5:30 p.m., Scuffle Hill Brewing Company will serve craft beers and wine in non-disposable, collectable event cups. Ella's Eats will sell Southern comfort food, and Bahama Sno-Shack will sell frozen treats. The Boys & Girls Clubs of the Blue Ridge will be in attendance for adoption of ducks in support of its annual fundraiser, Blue Ridge Duck Race.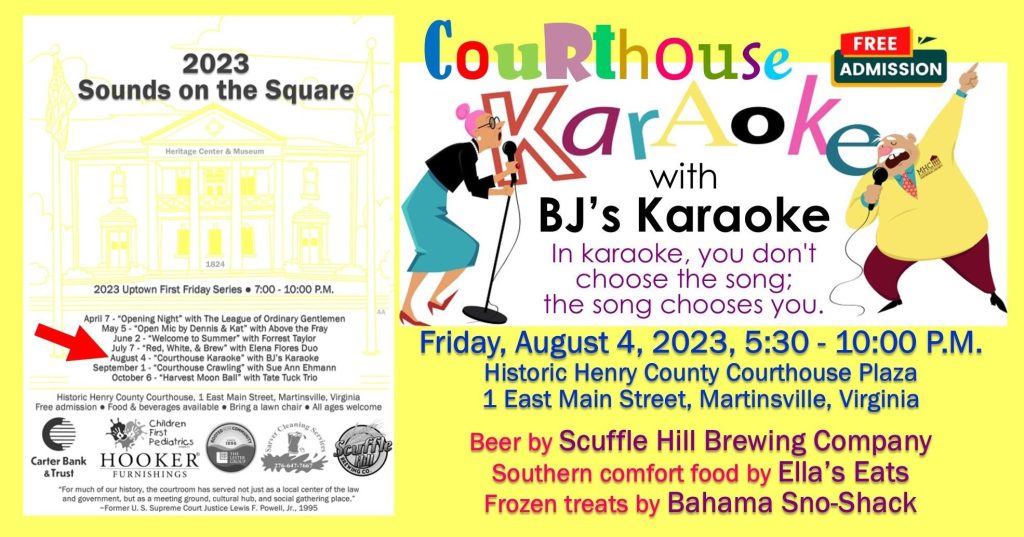 Karaoke, a compound word formed from the Japanese words "kara=empty" and "ōkesutora=orchestra," is a type of interactive entertainment usually offered in clubs and bars where people sing along to recorded music using a microphone. The music is an instrumental version of a well-known popular song. Lyrics are typically displayed on a video screen, along with a moving symbol, changing color, or music video images, to guide the singer. 
John Phillips, Historical Society President, said, "Courthouse Karaoke is your opportunity to be the star. Karaoke isn't about talent; it's about performing and having a good time." 
"Sounds on the Square" is coordinated by the Martinsville-Henry County Historical Society and sponsored by Carter Bank & Trust, Children First Pediatrics, Hooker Furnishings, The Lester Group, and Sarver Cleaning Services. The Historic Henry County Courthouse and Plaza are fully handicap accessible. The Martinsville-Henry County Heritage Center & Museum will be open during the event.