In what is hailed as a "relentless pursuit of justice," one man has been indicted in connection with the 2016 death of Everett Odell Bivins, Jr.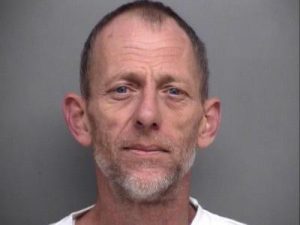 At a press conference held Tuesday, September 12, Henry County Sheriff Wayne Davis and Commonwealth's Attorney Andrew Nester announced that Kenneth Edward Gearheart was indicted by grand jurors in Henry County on one count each aggravated murder of a witness, use of a firearm in the commission of a felony and possession of a firearm by a violent felon in connection with the incident.
An indictment is not an indication of guilt, but rather a grand jury's finding that enough evidence exists to warrant a trial.
Davis said that on August 8, 2016, the Martinsville-Henry County 9-1-1 Center received a call in reference to a body that had been discovered at an abandoned house located at 5176 Appalachian Dr. in the Fieldale area of Henry County.
When deputies arrived at the scene, they located what Davis described as "badly decomposed remains" lying near the wood line.
The remains were transported to the Office of the Chief Medical Examiner for the Western District of Virginia for an autopsy and to determine identity.
The Office of the Chief Medical Examiner in Roanoke used DNA analysis to positively identify the remains as those of Bivins, Davis said and added the manner of death was ruled a homicide.
Bivins was last seen on August 1st, 2016, and he was officially reported missing on August 5, 2016.
"We diligently investigated this case but eventually, we stopped receiving leads and tips," Davis said. "Our investigators never let this case rest and relentlessly pursued what information we had."
Nester, Davis said, "is an invaluable partner to this office and he offered additional resources and invested his time into this investigation."
Davis also noted that Henry County Sheriff's Lt. Thomas Kenny "worked relentlessly over the last seven years to bring this case to a conclusion."
Nester said life without parole is the maximum punishment for the charges.
"We do look forward to this case working its way through the court system," he said.
In 2019 Henry County Sheriff's Office narcotics investigators charged Gearheart with 14 drug distribution charges. He was sentenced to 203 years, and it was "ultimately determined he would have to serve 95 years," making him eligible for parole on July 18, 2081, Nester said.
Gearheart is currently being held in the Keen Mountain Correctional Facility in Buchanan Virginia. He was served with the recent indictments on Monday, September 11, Davis said.
Both Davis and Nester said they hope the charges bring "some level of closure for this (Bivins) family."
The Victim/Witness Director contacted Bivins' spouse, Nester said, and added Mrs. Bivins "was grateful for our work."
Davis said Bivins' mother also had been contacted.
A counsel hearing is the next step of the process for Gearheart, Nester said, adding that Gearheart can either retain representation or the court would appoint an attorney. The case would then be scheduled for trial or disposed of otherwise.
"On behalf of the Henry County Commonwealth Attorney's Office," Nester thanked Davis and his "entire staff for diligent work over many years to keep this case alive and pursue justice." He also thanked those who served as grand jurors for "devoting their time."
Anyone with additional information about the incident is asked to contact the Henry County Sheriff's Office at (276) 638-8751 or Crimestoppers at 63-CRIME (632-7463). The Crimestoppers Program offers rewards of up to $2,500 for information related to crime. The nature of the crime and the substance of the information determine the amount of reward paid.