The 4th annual Festival Latino of Southern Virginia is set for Saturday, September 23. Held by the Southern Virginia Latino Association (SOVALA), the event will be from 11 a.m. to 5 p.m. at the Smith River Sports Complex Festival Grounds.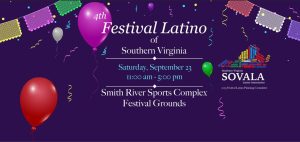 In addition to celebrating Latino culture in the middle of Latino Heritage Month, SOVALA member Sharon Ortiz-Garcia said the festival will also serve as an opportunity for community members to get to know the different vendors that will be set up.
"The different organizations that are going to participate with us on that day are going to be able to offer information in both English and Spanish to the festival attendees," she said.
Ortiz-Garcia said fest goers will have an opportunity to learn about the community's health services and organizations, education services, private businesses, and non-profit organizations.
"So, it's not only a celebration of the Latino culture, but also the opportunity to learn about many services that sometimes individuals are not aware that are available in our community, specifically in Henry-Martinsville and the surrounding areas," she said. 
Eli Salgado, founder and lead organizer of SOVALA, said informational vendors include the American Red Cross, Martinsville & Henry County CrimeStoppers, Martinsville & Henry County Economic Development Corp., Southside Survivor Response Center, Harvest Foundation, and United Way.
"Some of the others include Henry County Public Schools, Martinsville City Public Schools, Danville City post-schools, and local police agencies like the Henry County Sheriff's Office," he said.
There will also be colleges and universities present like New College Institute (NCI), Patrick & Henry Community College (P&HCC), Randolph College, Liberty University, Ferrum College, and Old Dominion University (ODU). 
Salgado said food vendors include Taqueria La Juquilita, Asador El Vergel, El Morelense, Taquera La G, Santos Hernandez, Jesus Gasphar Hernandez, and others.
"We'll actually have a vendor that will sell hotdogs for people also who may not be into Latino food, so we'll have a variety of options when it comes to that," he said.
There will be live music by Colmillo Sureño and Grupo Imperior Mexicano and the DJ will be Sonido Amistad Mixteca de Carlos Lopez.
Performances will be by Tiny Tots Tamers and Danza San Jose.
Sponsors for the festival include Bouncy Events, Colmillo Sureño, Made Two Manifest, Sandy Gourley Realtor and Piedmont Realty, Martinsville Surgical Associates, and Sonido Amistad Mixteca de Carlos Lopez.
Ortiz-Garcia said the festival first started about 10 to 12 years ago after a small group of Latino members in the community were contacted by the Harvest Foundation to develop a Latino Health Fair. 
The purpose of that event was to provide information related to health and education to the community's Latino and Hispanic members.
"Because through that strategic planning effort from Harvest Foundation back then, they found out that the Hispanic/Latino members of the community didn't know about the services available in Henry-Martinsville and how could they potentially benefit from some of them, or how to access them, and what medical facilities are here," she said.
The festival was last held in 2018 with a little more than 1,000 people attending.
Salgado said the organization is excited to be back after a four-year hiatus. 
"We had to put a pause on holding it because of the pandemic, and we were picking up on trying to do it every other year. With the pandemic over last year, everybody felt pretty good, but we were still not comfortable with doing anything," Salgado said. "But this year was the year."