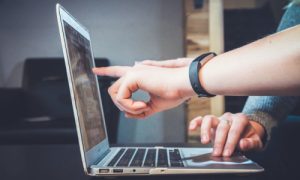 Members of the Henry County School Board heard the school division's plans to incorporate Artificial Intelligence (AI) and Machine Learning technology into classrooms during its recent meeting.
Phyllis Meade, the division's Curriculum Coordinator, said that most people use AI daily – when talking to Alexa, Siri, "or for navigation or when they're using their smartwatches or even when they're searching for answers on Google."
She noted that AI has made "tremendous advancements in medical, entertainment, and other career sectors, and it will only continue to increase in the future. We have only begun to understand the potential of this technology to bring new, learning experiences into the classroom."
Meade said that when AI is used appropriately, "there are some definite strengths for our classrooms and our schools. First of all, students now have access to vast amounts of information. This can be helpful when students want to research a specific topic or have questions about what they are learning."
Secondly, students "now have access to websites that help personalize learning experiences by analyzing previous interactions and providing tailored responses and recommendations to help them learn," Meade said. "If a student is struggling with a concept, they can ask AI and receive a response that emulates a personalized tutor."
Plus, AI is available 24/7, "which means students can access it at any time. This can be especially helpful for students who are working on projects and assignments outside of normal school hours," she said. 
AI is also a boon for teachers, Meade said.
"Teachers are using AI to help increase student engagement and provide interactive experience," she said. "Some teachers are using AI to create questions and assessments to measure learning, while others use AI to level tests for students. AI can be used to help educators make learning more accessible for all students. This technology also helps educators save time and resources by automating routine tasks such as grading and data analysis."
Daily advances in AI "open up new possibilities for students' learning and teachers' support," she said.
There are also challenges, Meade added.
Although AI can provide helpful responses and recommendations, "it cannot replace the benefits of human interaction, emotional support, and the motivation that our teachers can provide," she said.
Meade said all stakeholders "need to share in the responsibility to teach children about how the lack of a moral compass affects others so the students can identify and fully understand the limitations of Artificial Intelligence."
Its responses "are based solely on words that it has been trained on and the algorithms that it uses, which means it may not always understand the context of a question or a prompt," she said. "This can lead to misleading or irrelevant responses," and students must be aware of its shortcomings and have the ability "to sort bad information from good information." 
AI can provide information and explanations, but may not effectively teach complex content or concepts, Meade said. "Responses from data are only as good as the data the AI system has been trained on. So new information might not be up to date, and it would need to be vetted for accuracy by teachers.
AI relies on massive amounts of data."
One thing is for sure, "it's here," Ben Gravely, vice board chairman and of the Iriswood District, said. "Over the last several weeks, I had an opportunity to sit in on some conferences" through the NSBA (National School Board Association) and the VSBA (Virginia School Board Association), and part of the conversation was AI and how are we going to incorporate this into our schools," Gravely said.
"Note that I said 'incorporate it' into our schools. We cannot push it aside if we want our students to be just as competitive as other students," Gravely said. "I'm glad that we are in the ballpark." While there is "still a lot of work to do to figure this out, I'm pleased with where we are." 
Teddy Martin II, chairman, and of the Reed Creek District, echoed Gravely's sentiments.
"While The Jetsons may be a cartoon, I would take their success rate" and their projections 50 years into the future "pretty well," Martin said. "Other than the flying car. Other than that, they did pretty well."  
In other matters, the board: 
Heard a presentation about the use of metal detectors in middle and high schools. The detectors cost $75,000, and Dr. Benjamin Boone, Assistant Superintendent for Operations and Administrative Services, said another $5,000 would be needed for supplies. The board was scheduled to hear more information at its Oct. 6 retreat, with a final proposal to be presented at the Nov. 2 board meeting. If approved, use of the metal detectors would begin in mid-November, to coincide with the start of winter sports. 

VSBA certificates/pens were presented to several board members, including an Award of Recognition to Champ Hardie, Cherie Whitlow, and Thomas Auker; an Award of Achievement to Gravely and Elizabeth Durden and an Award of Distinction (the highest level) to Martin.