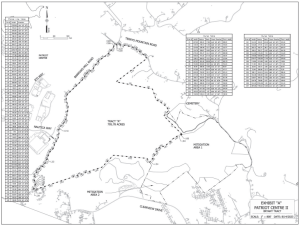 The Henry County Industrial Development Authority (IDA) approved a purchase and sale agreement for the Bryant property to an undisclosed buyer at its September 13 meeting.  If the sale moves forward, the buyer will pay $10,000 per acre, or an estimated $7.9 million, for Tract "A," which includes 795.78 acres.
The agreement, which is several pages long, includes a confidentiality clause with a Non-Disclosure Agreement, dated June 22.
At the meeting, County Administrator Dale Wagoner said the property is in the Collinsville District, near Barrows Mill Road and Nautica Way.
"It's approximately 790 acres that will be sold," he said.
Wagoner said the potential buyer will exercise a 120-day option to do due diligence and confirm that they are interested in the property.
"They will post a $100,000 deposit into the escrow, and after their 120 days have been suitable for their purpose, then they will pay us $10,000 an acre for the property. If it is not suitable, we will retain the $100,000," he said.
Wagoner said the Bryant property is zoned Industrial, "so it has to meet all the definitions of the zoning clause."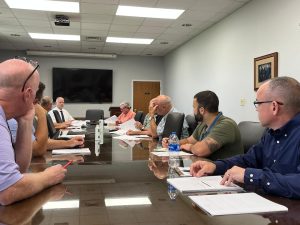 The Patriot Centre at Beaver Creek Industrial Park also has protective covenants over the area to establish owner protections within the Patriot Centre.  Examples of the covenant Land Use Restrictions include things like slaughterhouses, acetylene gas manufacture, ore reduction, auto storage for wrecking, dismantling or junking cars for salvaged parts, residential uses and others.   
The covenant also specifies design requirements, types of buildings, construction materials signage and a host of related requirements/restrictions.
Wagoner said at the meeting that the facility would be in compliance with both the zoning and the covenants, and would not have to be rezoned or seek an exemption.
In other matters, the authority:
*Approved a deed of correction for Schock Manufacturing, North America, LLC.
Wagoner said the company purchased another company during the pandemic and was able to retool some of its production processes. As a result, its agreements with the county were extended for two years, based on lower job creation and a decrease in its capital investment.
"Either way, it was a good investment," Wagoner said of the county's agreement with the company. He added Schock "is still excited about coming to Henry County."
*Approved a lease agreement with Appalachian Power Company (APCo), which will pay $1,000 per month to lease two acres of land in the Commonwealth Crossing Business Centre. The land will be used for temporary storage while rebuilding power lines and a substation in the area. The lease will be for two years, with the option to extend the lease for six months.
*Heard an update from Engineering & Mapping Director Tim Pace on the development of Lot #2 in the Commonwealth Crossing Business Centre.
*Approved the meeting minutes.
*Approved the accounts payable.