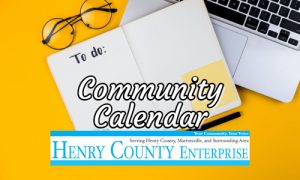 (Event information/calendar items must be received by 5 p.m. on the Tuesday before the desired publication date. Email to dhall@theenterprise.net.)
Meetings
The Martinsville-Henry County Lions Club regularly meets on the second and fourth Tuesdays of each month at 6:30 p.m. at the Pacific Bay Restaurant, 530 Commonwealth Blvd, Martinsville.
Tuesday, September 26
The Henry County Board of Supervisors meets at 3 and 6 p.m. in the Summerlin Room of the Henry County Administration Building.
Thursday, October 5
The Henry County School Board's Monthly Meeting begins at 5:30 p.m., followed by closed session, on the 1st Floor, Summerlin Room, County Administration Building, Collinsville.
Friday, October 6
Henry County School Board will hold a Special Meeting at 9 a.m., for a School Board Retreat at Chatmoss Country Club in Martinsville.
Tuesday, October 10
Community Meeting, 6 to 7:30 p.m. in the Horsepasture Ruritan Building, with Horsepasture District Supervisor Debra Buchanan, County Administrator Dale Wagoner, Deputy County Administrator JR Powell, Sheriff Wayne Davis and Lista Hughes, resident engineer with the Virginia Department of Transportation (VDOT).
Events
Friday, September 22
Savory September. Buon Appetito! The event begins at 6:30 p.m., and will include cuisine provided by local chefs, a 50/50 raffle, and live music. Tickets for admission are $50 and available for purchase at PiedmontArts.org or at Piedmont Arts. Raffle tickets are $20 each or $100 for six. Available at Piedmont Arts.
Saturday, September 23
Festival Latino, 11 a.m. – 5 p.m. at the Smith River Sports Complex on Irisburg Road, Axton.
Watercolor Painting Workshop led by award-winning artist, Dr. Jim McIntosh, 9:30 to 1:30 at Imagination Lavender Farm, 3590 Green Hill Drive, Martinsville. Cost $40 Limited Slots – (supplies included). Free light lunch. Call or text (276) 734-2828 to reserve your space.
An evening of Music with seasoned musicians Riggs Roberson & Griffin Haley, 5 to 8 p.m. at Imagination Lavender Farm, 3590 Green Hill Drive, Martinsville. Bring a chair and cooler of your favorite beverage and enjoy an evening of great music. No admission (donations appreciated). Food is available from Brenda's Catering (ribs, BBQ and all the fixings).
The Library of Virginia On The Go will visit the Martinsville Main Library from 10 a.m. to 1 p.m. with activities that include exploration of genealogy resources, discussion of regional and family history, oral history recordings and special guest Fran Snead, director of the Bassett Historical Center.
Sunday, September 24
Join the GBAC at its Rhythms by the River Event, from 5-7 p.m. at 3525 Fairystone Park Hwy., Bassett. Rachel Heaster & Ernie Power will entertain with their unique style of music! Bring a chair, just in case! Food will be available for purchase. Any questions, bcm.gbac@gmail.com.
Tuesday, September 26-Saturday, September 30
Create a Welcome Gnome Wreath at the library. Held at various branches on different days. Visit the closest branch to register. A $5 supply fee is required at registration.
Friday, September 29-Saturday, September 30
Fieldale Recreation & Pools will have a fundraising YARD SALE from 8 a.m. until 1 p.m. at the Recreation Center, 70 Marshall Way, Fieldale. Lots of bargains! Great Christmas gifts!
Saturday, September 30
Bassett Community Center Festival, to help save the Bassett Community Center, will be held from 11 a.m. to 5 p.m. at 119 Blackberry Road, Bassett, with something for everyone from 11 a.m. to 5 p.m., including free children's activities, prizes and inflatables. Food and various vendors, plus a Cornhole Tournament, with a Bassett Furniture prize awarded to the winners. Concerts that include a Legacy Motown Revue, 3-5 p.m., and a Willie Nelson Tribute (Jimmy Wilson), 1-3 p.m. will be held. Concert tickets are $10 in advance and $12 at the door. 
Friday, October 6
Bingo Fundraiser at Bassett Moose Lodge, 62 Spring Garden Lane, Bassett. Doors open at 6 p.m. Games start at 7 p.m.  $25 for 20 games plus one cover all game. Sponsored by the Martinsville Chapter of Delta Kappa Gamma, an organization of women educators. Proceeds will be used for scholarships for students in the Martinsville and Henry County Schools.
Saturday, October 7
Storytime, 10 a.m. at Spencer Penn Centre. This monthly program will include special readers, crafts, and other fun activities related to Pumpkins Smile, Too!  Come out and join us for this free program, fit for all ages! No registration needed.
Monday, October 9
Storytime at the Pumpkin Patch, from 4 to 7 p.m., every hour on the hour, along with other fun activities when you come to purchase your Halloween pumpkin at Grace Network Pumpkin Patch in uptown Martinsville.
Friday, October 13
Music Night at the Spencer Penn Centre, Long time favorite, Jus Cauz, will play in Alumni Hall. Gate opens at 5 p.m. with the band starting at 6:15 p.m. Admission is a $5 CASH donation. Come enjoy some great mountain music and dancing! Concessions, including our ever-popular Spencer Penn hotdogs, will be sold. 
Early Childhood Community Connections Event. Elementary Education students, Early Childhood Education students, and ALL students are invited to attend the second annual Early Childhood Community Connections Event.  Representatives from seven collaborative colleges, Longwood University, Old Dominion University, Radford University, George Mason University, Bluefield University, James Madison University, and Virginia Commonwealth University will share information about their programs and the required steps students need to take to successfully transfer to their colleges and will also answer any questions students may have. The event will be held in the Frith building, room 129-Exhibit Hall, from 5:30 – 7:30 p.m.
Saturdays through November 18
Martinsville Uptown Farmers' Market is open from 7 a.m. to noon, with the freshest fruits and veggies, homemade snacks, locally raised beef, and more. July 5-September 27, the market is open Wednesdays from 7 a.m. to noon.
ONGOING
The Bassett Ruritan Club hosts Rook Music & More on Fridays from 10 a.m. – noon. Play Rook, work puzzles, make a craft and listen to a mixture of bluegrass, country & gospel music by different bands each week. If you want, you can bring a snack to share. This event is free to the public. Any donations received will go to the Bassett Ruritan Club to pay for electricity etc.
Tuesdays in September – A series of four genealogy classes will be offered at the Bassett Historical Center on Tuesdays in September (5, 12, 19, 26), from 10 a.m. until noon. Classes are free and open to the public, but there will be a limit of 12 participants. Call (276) 629-9191 to register.
TheatreWorks to receive a percentage of all sales from "The Giving Tap" (special brew) at Mountain Valley Brewing this month.  In addition, TheatreWorks is hosting Trivia on Monday night, September 25, and Bingo on Thursday, September 28, beginning at 7 p.m. at Mountain Valley Brewing, 4220 Mountain Valley Road, Axton.
The Blue Ridge Regional Library offers free one-day passes to the Virginia Museum of Natural History and the Henry County YMCA with your library card. The passes are good for one day and exclude special events. There is a wait period before you can check out the pass again. For more details and exclusions, visit brrl.lib.va.us. 
The Fontaine Ruritan Club hosts Bingo every Tuesday at 1903 Joseph Martin Highway, Martinsville. Doors open at 5:30 and games begin at 7. Money from Bingo supports community service awards, scholarships, and other community efforts. 
Book Bingo on the 4th Tuesday of the month at the Martinsville Branch of the Blue Ridge Regional Library, 11 a.m. to noon. Call (276) 403-5430 to register. 
Medicaid eligibility renewals have resumed. Martinsville-Henry County Coalition for Health and Wellness (MHCCHW) offers Medicaid/FAMIS application and renewal assistance for Virginia residents from birth to 64 years of age in-person: Wednesdays 10 a.m.  – 1:30 p.m. at Community Storehouse, 128 E. Church St (lower level of the old Leggett Building) in Martinsville, or by phone, Monday – Friday, 8 a.m. to 5 p.m. MHCCHW's specially trained Medicaid/FAMIS Outreach Advocate is available to help. Call or text Ann Walker at (276) 732-0509 to learn more or for an appointment.
The Henry County Adult Learning Center offers free in-house and online classes to help prepare for college, career, or earn your high school equivalency or GED. Call (276) 647-9585.