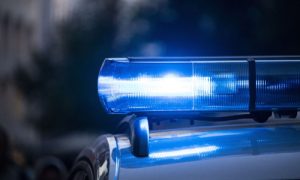 The Martinsville-Henry County 911 Communication Center received a call at 7:28 a.m. on October 23 to conduct a well-being check at 84 Summit View Drive, Apartment 1, Martinsville. Deputies from the Henry County Sheriff's Office responded to the scene. Upon arrival, they entered the apartment, where they located a deceased man inside the residence. The man was identified as Michael Jerome Hairston, 46. He resided at this apartment.
Authorities determined that Hairston arrived home on October 21, at approximately 5:12 p.m. At approximately 7:08 p.m., two people arrived and appeared to go inside the apartment at 84 Summit View Drive. Several minutes later, both people – which appear to be a man and a woman — are seen running from the apartment. This was recorded on a neighbor's doorbell camera.
On the night this incident occurred, the owner of the doorbell camera called at 7:20 p.m. and reported that two juveniles were outside messing with her apartment and possibly tried to damage her door. Two deputies responded to the apartment complex and spoke to the neighbor through her doorbell camera. They checked the apartment complex and then left the complex after not finding damage to any doors.
Hairston's body has been transported to the Office of the Chief Medical Examiner in Roanoke, Virginia, where an autopsy will be performed to determine the cause and manner of death.
This investigation is ongoing, anyone having information regarding this incident is asked to contact the Henry County Sheriff's Office at 276-638-8751 or Crimestoppers at 63-CRIME (632-7463). The Crimestoppers Program offers rewards up to $2,500 for information related to crime. The nature of the crime and the substance of the information determine the amount of reward paid.