A Henry County Sheriff's Office deputy was traveling southbound on Greensboro Road, near Sheetz at 11:38 a.m. on October 20, when the deputy observed a 2017 beige Ford Fusion perform an illegal lane change and drive recklessly. The deputy activated his emergency equipment to conduct a traffic stop on the vehicle. The Ford Fusion accelerated away, and a pursuit ensued.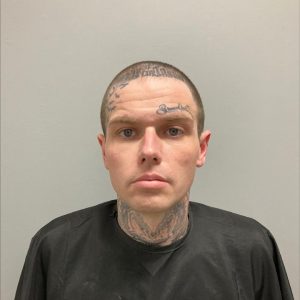 The pursuit traveled down Greensboro Road for several miles before turning around at a crossover. The pursuit then traveled northbound on Greensboro Road for a short distance before turning back around on Greensboro Road, where it started going southbound for a second time. The driver of the Ford Fusion eventually stopped the vehicle on Greensboro Road, near White House Road. The driver of the vehicle was taken into custody without incident.
Charles Levi Goins, 30, of 100 Ridgeview Ln., Apt. 1, Bassett, was wanted by Pulaski County, Virginia, for probation violation, with the underlying charges being two counts of distribution of narcotics, eluding police, and burglary.
In addition, he was charged with felony eluding law enforcement officer and fail to obey highway lane and is currently being held in the Henry County Adult Detention Center with no bond.
This investigation is ongoing, anyone having information regarding this incident is asked to contact the Henry County Sheriff's Office at 276-638-8751 or Crimestoppers at 63-CRIME (632-7463).  The Crimestoppers Program offers rewards up to $2,500 for information related to crime.