Released about a month ago, Natalie Hodge's newest book, "Hometown Hustle Guide: Simple Tips for Entrepreneurial Success," serves as a guide for potential entrepreneurs.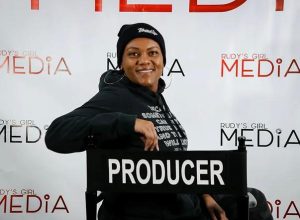 Hodge, an entrepreneur, writer, producer, and transformation coach, said she gathered many nuggets of wisdom while filming season two of Hometown Hustle and from her own experiences.
"I wanted to share those nuggets with people who are venturing to start their own businesses, or maybe are already in business and need a little inspiration," she said.
Hodge said a lot of the book is a mix of successes as well as challenges because she thinks sometimes those challenges are the best teachers.
"But I don't want everyone to have to go through the same challenges that I went through or other entrepreneurs that I've worked with have gone through in order to achieve their personal business success," she said.
The 156-page book is written in a guide format because Hodge wants readers to engage with the content and insert their own personal stories into the pages.
"There's space to take notes, there are prompts throughout the book, so people who are reading can flesh out their own ideas," she said. "I want it to be a living document in someone's entrepreneurial journey."
Hodge thinks the opportunity for people to note their ideas and use the prompts to help them think through their processes is one of the most important parts of the book.
'A lot of times, I'll read a book and I'll be in speed-read mode. I'll be trying to get through the book as quickly as possible, and I don't use all of those opportunities sometimes to reflect and insert my own ideas and think through my personal processes," she said.
Hodge said the way to maximize the book is to get in it, write in it, doodle ideas, and really engage with the questions.
Each chapter also has a specific theme, with one chapter about putting ducks in a row.
"It's about the ways in which you should start to prepare when you're endeavoring to open a business. There's a chapter about business plans. It breaks down the essential elements of a business plan and why entrepreneurs should have some type of plan," she said.
Another unique aspect of the book is that each chapter has a quote from someone about hustling, business, and entrepreneurship.
"So, you also have those moments of inspiration from people who have had success in business ownership," she said.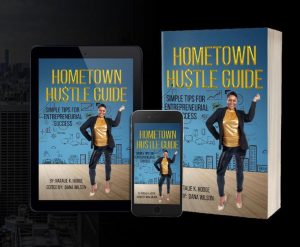 While there's a lot of content on the internet and numerous books available to help explore entrepreneurship, Hodge believes her book is an easy access point because it's simple to read and gives some quick tips and notes to help readers.
Hodge said one fun chapter is titled, "To Quit or Not to Quit." 
"That chapter is all about what you should be pondering as you think about leaving your traditional job. Reasons you should stay, reasons you might want to step away to pursue your business opportunity full time," she said.
Hodge said the chapter, "Understand Time," is an important chapter because she hears people all the time say they don't have time to do a certain task.
"Most often, we're in some ways not efficient with our time. This chapter's all about looking at time efficiencies and time thieves are what I call them. Things like needing to meet or people who might take you on a wild goose chase, death by processing, or crisis-making," she said.
Each is a time-eater that will steal time that could be spent working on business opportunities or resting so that people are in the most balanced place possible to bring their best self to the table in their businesses, she said.
The process of writing and putting the finishing touches on the book, Hodge said, forced her to be reflective of her own entrepreneurial journey, her business challenges, and her missteps.
"There were moments where I felt like, 'well, what qualifies me to be an expert in this area? I'm not perfect as an entrepreneur.' I worked through that by remembering that people need to hear about those flaws," she said.
Hodge believes thinking that someone has it all together is sometimes a deterrent for people moving forward with their own life goals "because we're looking in from the outside thinking someone else is more qualified because they check all the boxes, and someone who's imperfect couldn't possibly achieve success."
Through reading this book, Hodge wants others to know she's still on the entrepreneurial journey and is still making mistakes every day. 
"And I utilize those lessons to support other people having a smoother journey than I've had," she said. "So, I learned to be transparent and to share things that I think other people might not if they're presenting themselves as an expert."
The book is available on Amazon as a paperback and at the Rudy's Girl Media studio. Hodge plans to have copies placed in the display case of The Ground Floor in the near future.