My honorary daughter asked me what kind of business she should go into to make some money during this time she's out of work for carpal tunnel syndrome.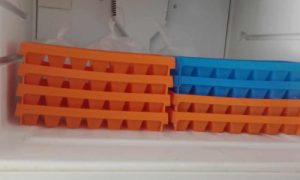 Being an American, I couldn't think of anything. We just either try to mow yards or clean houses or go out and apply for jobs, but without an education, she can't do much other than physical labor.
Of course, a lot of people would jump right in and suggest some type of pyramid scheme that delivers promises while it squeezes you dry of any and all money you sink into it, but I knew better than to do that.
She lives in Mexico, where life is a whole lot harder than it is here, but people also are a lot more creative than we are on how to get by. We communicate every day with chats over Facebook Messenger and sometimes over video calls too.
While I was hemming and hawing and not coming up with any good answers, she sent a reply: What would I think about her selling ice?
Selling ice? Why, that would not have occurred to me in a million years.
Sofia lives on the outskirts of Monterrey, a dry and dusty concrete city of more than a million people (yes, it has its lush and beautiful parts, but not so much for the average poor person like my Sofia). She was born and grew up in a lovely remote mountain village where there wasn't any possibility at all of making a living, so she emigrated.
She and her two kids live in a new government-sponsored development of small matching concrete houses in a sea of other developments of small matching concrete houses that stretch for as far as the eye can see.
"There's a lot of construction work going on here, and the workers need ice," she said, but in Spanish of course.
All she needed was a big freezer to store it in, and a sign on the window proclaiming "Se vende hielo" – "Ice for sale." She sent me a video of a used freezer. I sent her $150 to buy it and get it delivered, and I hoped she'd sell a lot of ice.
How much ice does one need to sell to provide for oneself and two children?
She had asked me earlier to send her some clothes for her to sell. People in Monterrey love American clothes, she said, and she could do pretty well with that. However, when she was working full time in the battery factory, she earned the equivalent of about $70 a week. That's probably a standard pay for that area, and I didn't see any sense in my spending $30 or whatever for individual shirts (and she was probably thinking of name brand $70 shirts), then another $130 to send her a box of shirts, just for her to sell them for a few dollars each.
That's why I didn't mind sending her $150 for a freezer and seeing how she made out.
Well, a couple of months later, she told me that the ice deal was not working as she had hoped. By the time she paid her bus fare to get to the store to buy a bag or two of ice, which melted a great deal on the way back home before she could put it in the freezer, she had very little left for any profit.
"Have you been buying the ice all this time?" I asked her. "They have molds you can make your own ice in. That's how we do it in America. Can you make some popsicles too, out of fruit juices?"
I also started seeing Facebook posts she was making on a community sales page. She has been selling jewelry out of a catalog, and their old clothes. "Come see them, with no obligation," her posts said, punctuated with cheerful emojis.
What a long row it is to hoe in life, much longer for some people than for others.
She finally had her surgery for the carpal tunnel syndrome, and the government, or whoever manages these things – she just said "They" – gave her a month of incapacidad before she could return to work.
Today we returned to the topic of ice. It started with a general conversation of what we had done today. I told her about the boring parts of my day but left out the part of buying a new pair of shoes and some treats for the cats because I don't like to rub in the differences between here and there, and I asked her what she and the kids were doing.
"Today I went to the market to get something to eat," she replied. "I go out to buy food each day, depending on how my ice sales are going."
"Can't you make ice in molds?" I asked.
"Yes, look," she replied, sending a picture with eight ice cube trays on a freezer shelf. "But they take a long time to freeze."
"They also make ice machines people can set on the counter," I replied.
"Yes, but they are very expensive, Mama," she wrote.
Well, for us, fifty or a hundred bucks for an icemaker isn't so bad, all things considering – is it?