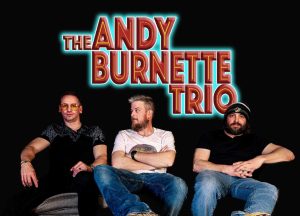 The Martinsville-Henry County Historical Society will sponsor "Harvest Moon with the Andy Burnette Trio" as part of Sounds on the Square on Friday, October 6, on the Plaza of the Historic Henry County Courthouse. 
Admission is free. Beginning at 5:30 p.m., Scuffle Hill Brewing Company will sell craft beers and wine in collectable event cups, and Buckin Good Eats & Lemonade will sell food. Bring a blanket or lawn chair and invite your friends and family for an evening of fun and entertainment. The live music will begin at 7 p.m. 
The Andy Burnette Trio is a high energy, crowd pleasing, good time band from Martinsville, Virginia. The Trio is in constant demand, performing over 120 shows a year in venues all across the region. Originally formed in 2017, the Trio consists of Andy Burnette (guitar/vocals), Brian Kidd (bass/vocals), and Jeremy Price (drums) and covers a wide variety of genres. Audiences hear everything from 70s soul, to 80s and 90s rock, pop, country, southern rock, blues, and funk. There is literally something for everyone at an Andy Burnette Trio show. Today, the Trio is constantly evolving, adding new tunes, playing bigger shows, and expanding their audience. 
John Phillips, president of the Historical Society, said, "On behalf of the Martinsville-Henry County Historical Society, thank you to the community and beyond for the overwhelming support of our 2023 Sounds on the Square series! Join us for 'Harvest Moon with the Andy Burnette Trio' to say farewell to the summer season, welcome autumn, and celebrate October as Local History Month in Virginia." 
"Sounds on the Square" is coordinated by the Martinsville-Henry County Historical Society and sponsored by Carter Bank & Trust, Children First Pediatrics, Hooker Furnishings, The Lester Group, and Sarver Cleaning Services. The Historic Henry County Courthouse and Plaza are fully handicap accessible. The Martinsville-Henry County Heritage Center & Museum will be open during the event.