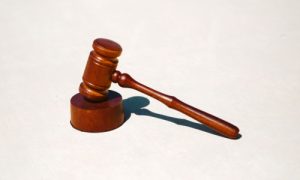 A federal grand jury in Roanoke returned an indictment last week charging a Fieldale man with engaging in a fraud scheme in connection with a residential real estate transaction valued at more than $1.3 million.
An indictment is merely an allegation, and all defendants are presumed innocent until proven guilty beyond a reasonable doubt in a court of law.
According to court documents, Herman Lee Estes Jr., 40, who was on federal pretrial supervision due to an illegal firearms charge, contacted a real estate agent on January 17, 2023, inquiring about purchasing a Roanoke County property then listed at $1.2 million, according to allegations.
Estes allegedly falsely represented to the agent that he was due a tax refund of $18 million, which would soon be transferred to his estate as part of a trust.
On January 25, he pleaded guilty to federal firearms charge and remained on pretrial release pending sentencing.
In March 2023, Estes allegedly again contacted the real estate agent, falsely stating that his tax refund had cleared, and he was ready to move forward with the purchase of the property. At Estes's direction, the real estate agent prepared a cash offer for the property in the amount of $1.3 million.
To prove he had funds available, Estes is alleged to have provided a letter, dated March 29, which indicated he had been approved for a private real estate loan in the amount of $1,315,000. In addition, he allegedly provided the real estate agent a phone number for a person he represented to be the manager of his purported trust. The real estate agent contacted this individual, who falsely claimed to be Estes's trust manager and then approved the cash offer. The contract was ratified, and the parties proceeded to closing.
On April 10, 2023, Estes is alleged to have provided the settlement company a 62-page 'extension of credit' document, which he falsely represented to be trust documents, as part of his closing procedures. Estes stated that he did not deal with public banks but rather dealt 'directly with the Federal Reserve Bank'.
Documents allege that Estes paid for the property with a fraudulent cashier's check, with a routing number purported to be drawn from the Federal Reserve Bank in Richmond, in the amount of $1,307,199.43. He allegedly shipped the check via FedEx on April 12, 2023.
On April 13, 2023, the fraudulent check was deposited by a settlement company into its account at American National Bank and Trust. Closing for the sale occurred the following day, the deed was recorded with the Circuit Court of Roanoke County, and Estes took possession of the property.
On April 17, 2023, the purported cashier's check was returned by the Federal Reserve Bank of Richmond and marked fraudulent.
Estes is charged with one count of bank fraud, one count of wire fraud, and one count of mail fraud, and with committing each of these offenses while on federal pretrial release. If convicted, he faces a maximum penalty of 40 years in prison. A federal district court judge will determine any sentence after considering the U.S. Sentencing Guidelines and other statutory factors.
United States Attorney Christopher R. Kavanaugh of the Western District of Virginia made the announcement.
The Bureau of Alcohol, Tobacco, Firearms and Explosives, which handled the previous federal firearms investigation, is investigating this case, with assistance from the Internal Revenue Service. The Federal Reserve Board, Office of Inspector General, and the Roanoke County Police Department have also assisted in the investigation.
Assistant U.S. Attorney Kristin B. Johnson is prosecuting the case.