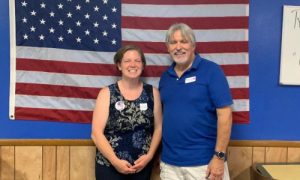 Deborah "Renie" Gates, a Democrat from Willis, Va., will oppose incumbent Republican Senator Bill Stanley, R-Moneta, in the upcoming race.
Gates received a clear majority of the vote from the 7th State Senate District Democratic Nominating Committee during a nominating caucus at the Franklin County Democratic headquarters in Rocky Mount on Saturday, June 3.
She was one of two candidates to file for the nomination, emerging victorious against Sherman David Witcher, of Rocky Mount. Witcher is a former Independent who lost a bid for the 20th district in the 2019 election. 
"I am running because I want to make a difference," she wrote on her website. "We need to have more legislation and funds that will benefit the people in our region. Far too often our voices are never heard and people in power ignore us and our needs. We need better roads and infrastructure. We need better access to health care. We need to have more regulations to stop utility companies from exorbitant increases. Rural folks need working-class rural representation."
Gates, a speech therapist, also wrote that she is the proud mother of two young children, and owns and operates a small farm, called Country Heart Farm. The farm focuses on gardening, preserving products from the garden or orchard; educating those who are interested in learning the 'old ways,' such as canning and food preservation; providing farming experiences such as collecting eggs, planting seeds, and milking goats. 
"We teach people firsthand the importance of caring for their livestock. I am very interested in promoting agro-tourism in our region of Southwest Virginia. I want to promote a better understanding to visitors from more urban areas of what the day-to-day life of being a farmer is like, and the hard work that goes into it," she wrote.
A lifelong resident of Floyd County, Gates is a 1997 graduate of Floyd County High School. She attended New River Community College and received a degree in Arts and Associates Science in 2004. Gates then attended Radford University, where she earned a bachelor's degree in 2007 and a master's degree in Speech Therapy, with honors, in 2009. 
"I learned the importance of working hard to further my education. It was important to me to get into a career where I could use my skills and love the job that I was doing serving people," she wrote. "My family and I have a life-long commitment to volunteering and service in our community. As a young adult, I volunteered with Floyd County Rescue Squad as an Emergency Medical Technician (EMT) and assisted with transporting and saving lives. 
"Because our county does not have any hospitals, I learned the importance of making every minute count to save a life. While on the squad I participated in demonstrations and tours of our ambulance at local elementary schools and loved to see the prospect of future EMTs for our county," she wrote.
More information about Gates is available at www.friendsofreniegates.com, or from John Reynolds, chairman of the Patrick County Democratic Committee, and/or the Franklin County Democratic Committee at fcdemocratsva@gmail.com or (540) 238-7307.