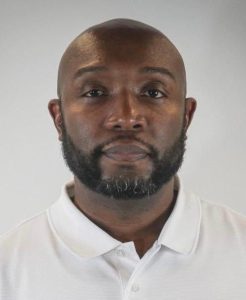 Patrick & Henry Community College (P&HCC) Athletic Director and Assistant Vice-President for Student Engagement and Inclusion Brian Henderson announced Dennis Gaskins Jr. was hired as the new P&HCC Head Women's Basketball Coach.
"I want to thank Brian Henderson and all of the athletic department for the tremendous opportunity to join the Patrick & Henry PHamily," said Gaskins. "I am looking forward to bringing excitement and passion back to the women's basketball program. This excitement will only be matched by our passion for building a first-class program, where student-athletes believe in doing things the right way and to the best of their ability."
Gaskins grew up in Edward, NC and graduated from Aurora High School. He was considered a standout basketball player, which garnered him a basketball scholarship to Elon University where he was a 4-year starter. 
"Patrick & Henry Community College athletics is fortunate to attract respected and successful coaches from all over," said Henderson, adding "Extraordinary coaches like Coach Gaskins tend to be extraordinary teachers and leaders for today's student-athletes. His experience as a former NCAA D-1 point guard and history as a program-builder at the high school, prep, and collegiate levels is well documented."
After graduating from Elon, Gaskins spent three seasons coaching high school basketball in Charlotte, NC. Over the next few years, he provided many opportunities for youth by founding and coaching at Carolina Explosion, a travel basketball and volleyball club located in Wake Forest, NC. Prior to coming to Patrick & Henry, Gaskins spent one season at Louisburg College as an assistant coach for the women's basketball team. 
"One of my goals is to build great relationships with our student-athletes and the surrounding community," says Gaskins.  "I want our student-athletes to love and have a well-rounded experience here at Patrick & Henry and I am excited to shoulder that responsibility starting this upcoming season." 
Coach Gaskins currently resides in Wake Forest, NC with his wife, Tasha, and 2 children: Camryn and Kendall. 
For additional information or to join the P&HCC women's basketball team, visit www.phccsports.com or contact Brian Henderson at bhenderson@patrickhenry.edu.