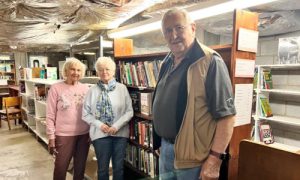 The Friends of the Library's (FOL's) next book sale will be on Saturday, April 22, in the basement of the Martinsville Branch Library. The sale, open from 9:30 a.m. to 2 p.m., will feature a complete set of leather-bound Louis L'amour Collection books, a complete set of Zane Grey's western novels, and a rare out-of-print book on Martinsville's namesake General Joseph Martin by Denise Morrison. Most of the books are $1, except the children's books which sell for 25 cents.
While not part of the library system, the FOL assists the local library branches with financial support to aid programs and projects in the various branches. Recently the group contributed $2,000 to help fund the Coffee Kiosk in the Martinsville branch.
Proceeds from book sales are distributed to the five area library branches. The books come from personal donations and discarded books from the library branches, not purchases.
The Friends of the Library has pledged $10,000 to the recent expansion project at Bassett Library.
"We have given $5,000 already, and we will give them the other five," said Betty Turner, a member of the FOL.
 Each year the organization contributes $5,000 to the local library branches. "It's $1,000 for every branch, Stuart gets $1,000, Bassett, Ridgeway, Martinsville, and Collinsville. It goes towards their summer reading program," said member Lewis Turner.
If anyone is interested in joining the FOL, applications are available at any branch. The group needs individuals who are willing to help support library programs and volunteers who can assist with sales. The group also gets a first look at the books in most cases. FOL are invited to book sales on Friday nights before the public sale on Saturday mornings.
Books to donate to the sale may be dropped off at any branch.