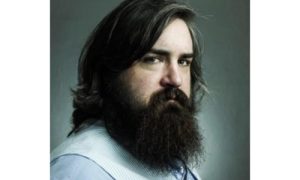 One of the nice things about living out in the woods in Patrick County is that I'm only about half an hour from Floyd. My girlfriend and I take advantage of this all the time; we routinely head up to Floyd to grab a meal (the Garlic Geraldi pizza at Geraldi's on Locust Street is the finest pizza I've ever known), or check out the plants at Lichen or Knot, or hit up Red Rooster Coffee, or grab a beer at Buffalo Mountain Brewery, or check out the Farmer's Market, or do any number of fun things. It's an awesome little town.
One of the things I love about Floyd is the mix of people who coexist there. On any given day, you'll see an old man in bib overalls enjoying some bluegrass next to the hippiest hippie to ever kick a hacky sack. That's a goal more of this country should aspire to.
Recent events, however, have left me concerned.
Cardinal News recently reported that at the June 27 meeting of the Floyd County Board of Supervisors, Supervisor Levi Cox made a motion to rescind the non-profit June Bug Center's $4,500 appropriation in the FY 2023/2024 budget. It seems that a group out of Roanoke called the Downtown Divas had rented the space to host a drag show during Pride Month, and a local pastor in attendance at the meeting had commented to the board that the show was "disgusting, vulgar, and perverse."
Supervisor Kalinda Bechtold seconded the motion, but not because of the drag show; she objected that the June Bug Center had participated in a Juneteenth celebration hosted by Floyd C.A.R.E. (Community Action for Racial Equity), saying that she felt the June Bug Center "colored out of their lines" when they participated in the event.
Thankfully, Supervisors Jerry Boothe and Linda DeVito Kuchenbuch rightly voiced concerns that pulling the funding could be a "slippery slope" and the motion was tabled until the board's July 11 meeting.
At the July 11 meeting, the board approved the June Bug Center's appropriation and chose not to discuss the decision with the public, and also declined to respond to media inquiries.
I can only speculate as to the reason the board decided to clam up at the following meeting. If forced to speculate, I would say that they should increase that reason's hourly fee because they're giving some solid legal advice.
I could write a column about how drag shows are not inherently sexual and our nation's sudden concern over drag and trans people is nothing more than culture war B.S. to rally the base against a perceived enemy.
I could also write a column about how there's really only one reason to object to celebrating a federal holiday commemorating the end of slavery, and if you believe for one second that the objection involves a purely philosophical argument over a non-profit's role in the community, then I've got some magic beans to sell you.
Instead, this is a column about the importance of voting in your local elections.
I know too many people who never miss a Presidential election but fail to show up at the polls for state or local elections. Everyone knows who the President is, and most people know who their Governor is, but how many people can name every member of their city council or board of supervisors?
Yet realistically, these are the folks who have the biggest impact on our day to day lives. If I'm concerned about the need for a traffic light at a dangerous intersection, or if I want to get a water line installed on my road, I'm not going to mail a letter to Joe Biden. That's the kind of thing you bring up at a meeting of your local government, along with any other concerns you may have, no matter how nonsensical or wackadoo. It's a great system.
Problems arise, however, when voters become apathetic about who's getting elected to their local government. Hypothetically speaking, a councilman or supervisor could get elected and decide to steer the community in the direction dictated by their personal morality, and hypothetically, that direction might run counter to the laid-back, artistic, inclusive atmosphere that's a big part of what makes the community great in the first place.
To further compound this problem, small-town newspapers all over the country are getting hacked and slashed to bit and often don't have the manpower to cover every single board meeting, and if the media isn't there to keep an eye on these folks, they can make all sorts of decisions that you and I won't even find out about until it's too late.
It's fortunate that in this case, the media did shine a light on the board's objections about the June Bug Center, and that attention likely caused the board to change course.
In the long run, though, it's up to the voters to make informed decisions at the polls and decide whether we want our elected officials to represent us, or represent the latest cable news talking point.