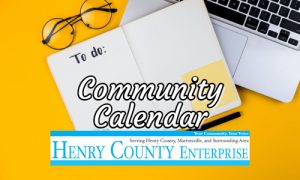 (Event information/calendar items must be received by 5 p.m. on the Tuesday before the desired publication date. Email to dhall@theenterprise.net.)
Meetings
The Martinsville-Henry County Lions Club regularly meets on the second and fourth Tuesdays at 6:30 p.m. at the Pacific Bay Restaurant, 530 Commonwealth Blvd, Martinsville.
Tuesday, July 25
The Henry County Board of Supervisors is scheduled to meet at 3 and 6 p.m. in the Summerlin Room of the Henry County Administration Building on Kings Mountain Road. 
Events
Friday, July 22
Christmas in July Alcohol Ink Painting Workshop with Melani Helms from 9:30 a.m. to 12:30 p.m. Cost $40 (includes all supplies) Join us as we use alcohol ink to paint beautiful ornaments. Experiment with several techniques. Imagination Lavender Farm, 3590 Green Hill Drive, Martinsville. Call (276) 734-2828 to reserve your spot. Free light lunch provided. Reduced Christmas Items available in Gift Shop.
Tuesday, July 24-Wednesday, July 25
The 5th annual Michael C. Jarrett Basketball Clinic, 11 a.m. to 2 p.m. at the Martinsville-Henry County Family YMCA. The clinic is for boys and girls, aged 6 to 16. Coaches include George Bell, former Globetrotter, television and screen actor; Bill Adkins, a former basketball player at Carver High School and Averett College, and David Cunningham, who has played baseball and football at Guilford College. 
The camp costs $20 per day, or $30 for both days. For more information, call Jarrett at (757) 237-2644 or email him at mcjarrett4833@gmail.com.
Friday, July 28-Saturday, July 29
The Friends of the Blue Ridge Regional Library are hosting a book sale in the basement of the main branch, 310 E. Church St., Martinsville. Friday, July 28, 2-5p.m. is "Members only" (you can join at the door) & Saturday, July 29, 9:30 a.m.-2 p.m., is open to the public. We have lots of "new to us" books in young adult, children's, cookbooks, fiction, gardening, hoodies, & many more great finds! ALL paperback books are .50¢ & ALL hardback books are $1, unless otherwise marked. All proceeds go back into the library system. 
Saturday, July 29-Sunday, July 30
The Patrick & Henry Men's Basketball team will be hosting their second camp of the year from 9 a.m.-12 p.m. each day. The camp is open to boys and girls aged 8-12. Previous camps have been fun filled events with the right mix of skill training and fun games for children interested in basketball. Don't miss out, register now. The $40 cost covers both days of the camp (no deposit required). To register, contact Coach Mayshack at cmayshack@patrickhenry.edu.
Tuesday, Aug. 1
Historian and Virginia native, Phillip Andrew Gibbs will lead a program at the Bassett Historical Center about his book, "Murder and Mountain Justice in the Moonshine Capital of the World," linked to moonshine and drugs in Franklin County, circa 1978. The free program begins at 10:30 a.m. in the Susan L. Adkins Memorial Meeting Room.
Friday, Aug. 4 – Sat., Aug. 5
Theatre [in the] Works- Improv in the Blackbox is BACK! Come laugh with us as our Improvisers create scenes based off of YOUR suggestions right on the spot, much in the same way as "Whose Line is it Anyway." The event begins at 7 p.m. (theatre opens at 6:15 p.m.). Tickets are $10 at the door (no advance/online tickets) – suggested rating PG-13.
Saturday, August 5 
Music at the Imagination Lavender Farm – 3590 Green Hill Drive, Martinsville, (276) 734-2828. The show is from 5-8 p.m. Liv Sloan with Austin Janey and Griffin Haley jazz-influenced classics, soulful blues, and 50's Motown. No cover charge but donations appreciated. Bring a chair and coolers welcome. Concessions will be available.
Storytime at the Spencer Penn Centre, at 10 a.m.  This monthly program will include special readers, crafts, and other fun activities. The free program is fit for all ages. No registration needed.
Friday, August 11
Music Night at Spencer Penn.  2 Young 2 Old will play in Alumni Hall. Gate opens at 5 pm with the band starting at 6:15 p.m. Admission is a $5 CASH donation. Come enjoy some great mountain music and dancing! Concessions, including our ever-popular hotdogs will be sold. 
Saturday, Aug. 19
The third annual Uptown Music Fest, 6-8 p.m. at the Virginia Museum of Natural History. The MWW Foundation will host the fest that features live music with performances by Matt Crowder & BDE and The Low Low Chariot and JD Sutphin back for a short time from Nashville. Food vendors will be on site. Bring your lawn chair for concert seating and let the music move your feet! Event is rain or shine. Sponsors include The Lester Group, BTW 21, Martinsville Uptown Farmers Market, Chamber's Partnership for Economic Growth (CPEG), and the Virginia Museum of Natural History. Free admission for those aged 12 and under. Tickets are $10 in advance and may be purchased at https://www.facebook.com/uptownmusicmhc/ OR on Eventbrite. 
Slick Jr. and the Reactors are among the performers during Music at the Imagination Lavender Farm, 3590 Green Hill Drive, Martinsville (276) 734-2828. The show is 5 to 8 p.m. Bring a chair and cooler and enjoy an evening of outstanding music influences, including Muddy Waters, Howlin' Wolf, Buddy Guy, the Allman Brothers, Grateful Dead Sam Cook and Marvin Gay. No cover charge but donations appreciated. Concessions will be available.
The Smith River Fest, 10 a.m. to 4 p.m. at Monogram Foods Smith River Sports Complex. Ride the river, learn to fly-fish, browse vendors, and challenge yourself in the Helgramite Hustle 5K Mud Run. Join us as we celebrate the Smith River and it's 45 miles of scenic beauty flowing through our community and the nearly 20 miles of shared-use trails that make up the Smith River Trail System. Admission and parking are free.
Sunday, August 20
80's Sock Hop at Spencer Penn, from 2-5 p.m. $5 admission, free for Spencer Penn members.
ONGOING
Saturdays through November 18
Martinsville Uptown Farmers' Market is open from 7 a.m. to noon, with the freshest fruits and veggies, homemade snacks, locally raised beef, and more. July 5-September 27, the market is open Wednesdays from 7 a.m. to noon.
Tuesdays in September – A series of four genealogy classes will be offered at the Bassett Historical Center on Tuesdays in September (5, 12, 19, 26), from 10 a.m. until noon. Classes are free and open to the public, but there will be a limit of 12 participants. Call (276) 629-9191 to register.
Zumba is held Tuesdays and Thursdays at Spencer Penn, beginning at 5:45 p.m. Join Body by Jenise for a great, fun workout. The drop-in price is $8.  
The Blue Ridge Regional Library offers free one-day passes to the Virginia Museum of Natural History and the Henry County YMCA with your library card. The passes are good for one day and exclude special events. There is a wait period before you can check out the pass again. For more details and exclusions, visit brrl.lib.va.us. 
The Fontaine Ruritan Club hosts Bingo every Tuesday at 1903 Joseph Martin Highway, Martinsville. Doors open at 5:30 and games begin at 7. Money from Bingo supports community service awards, scholarships, and other community efforts. 
Book Bingo on the 4th Tuesday of the month at the Martinsville Branch of the Blue Ridge Regional Library, 11 a.m. to noon. Call (276) 403-5430 to register. 
Medicaid eligibility renewals have resumed. Martinsville-Henry County Coalition for Health and Wellness (MHCCHW) offers Medicaid/FAMIS application and renewal assistance for Virginia residents from birth to 64 years of age in-person: Wednesdays 10 a.m.  – 1:30 p.m. at Community Storehouse, 128 E. Church St (lower level of the old Leggett Building) in Martinsville, or by phone, Monday – Friday, 8 a.m. to 5 p.m. MHCCHW's specially trained Medicaid/FAMIS Outreach Advocate is available to help. Call or text Ann Walker at (276) 732-0509 to learn more or for an appointment.
The Henry County Adult Learning Center offers free in-house and online classes to help prepare for college, career, or earn your high school equivalency or GED. Call (276) 647-9585. 
Trail Trekkers meet as a group on Thursdays (1 p.m. Fall & Winter; 9:15 a.m. Spring & Summer) and walk along a different trail each week. Explore the trails of Martinsville-Henry County, make new friends, and get some fresh air and exercise. Call Henry County Parks & Recreation (HCPR) Senior Services to find out more at (276) 634-4644. 
Ride and Dine Friday afternoons with members of the Henry County Bike Club. Fellow cyclists meet at the Liberty Street access point of the Dick & Willie Trail to put in some miles and refuel with lunch at a different eatery each week. For more information, call Marti at 276-358-1312. Rides are year-round but are canceled if it's raining or if the temperature is below 50 degrees.