The Henry County Board of Supervisors, Henry County Sheriff's Office, and the Henry County Public Schools are collaborating to add a School Resource Officer (SRO) to each of the county's schools.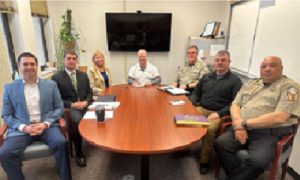 Currently, SROs are assigned to all middle and high schools, at the Center for Community Learning, and the county has a designated elementary SRO who rotates to each of the division's nine elementary schools. Now, however, an SRO will be assigned to all county schools, both for the remainder of this year and in the years to come.
While the decision came within weeks of a tragedy at a Christian school in Nashville, Tenn., Brandon Martin, the county's Public Information Officer, said "The conversation surrounding school safety is ongoing and multifaceted. While the incident in Nashville certainly underscored the importance of these efforts, it was not the impetus for the entire discussion."
The division has long had in place and regularly adds to its multi-layered security features to ensure the safety of school community members in all schools, school officials said.  The additional SROs will be paid for using funds from the school's budget.
"Henry County Public Schools plans to use funds previously allocated for positions we have been unable to fill this year to support the effort to ensure SROs at each elementary school for the remainder of the 22-23 school year. We are grateful for Mr. Wagoner, Sheriff Perry, and their teams and the collaborative planning that has been done to further provide safety, security, and peace of mind for our school community as we continue to strive to make our schools excellent places to work and learn," Schools Superintendent Sandy Strayer said.
"Our board has always been supportive of multiple layers of security in our schools and am pleased to have the collaborative support of our County administration and Sheriff's office to make SROs in our elementary schools a reality in Henry County. Our continued efforts to ensure the safety of our school community members are a priority for us all," said Teddy Martin II, chairman of the Henry County School Board.
"I appreciate the collaboration with School Administration and the Sheriff's Office to address a vital need in our community. SROs are much more than just police officers. They are mentors, educators, and role models for our young scholars," County Administrator Dale Wagoner said.
"The safety of our school children is paramount, and the Board of Supervisors is fully supportive of this endeavor to provide school resource officers onsite for each of our schools. The quick action and collaborative planning by the County Administration, School Administration, and Sheriff's Office are commendable and demonstrate the kind of leadership that is necessary as we continue to address the vital needs of our community," said Jim Adams, chairman of the Henry County Board of Supervisors.
"Over the last few years, our school safety has been a top priority for the Henry County Sheriff's Office. The Sheriff's Office, County Administration, and School Administration have had many discussions over this time to make the schools safer. I am very thankful for today's joint meeting with this group once again, as we move forward to enhance school safety by putting an SRO in every school in our County," said Sheriff Lane Perry.