Genie Elgin shares her love of painting and artwork through classes held at the RiverWalk Mini Mall in Bassett.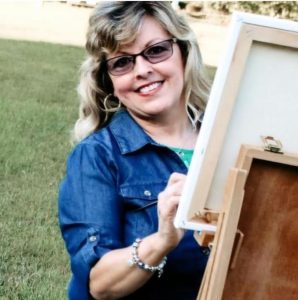 "It just seems like when you share your art with people, they have two reactions. You get a lot of 'Oh can you make me one' or 'Can you show me how to do that,'" she said.
Elgin said she always tried to show and help those in her family with their artwork.
"My mom is a quilter, so if she needs a certain shape, I'll show her how to draw it. I've always been a teacher of it at heart I guess you'd say," she said.
Before she retired from her position at a post office, Elgin began sharing her artwork online, and on social media sites like Facebook and received some commissions for her paintings. 
To really focus on her art, Elgin took an early out offer in 2018 from the United States Postal System (USPS). She retired from her position in March and got her business license in May to sell and teach art.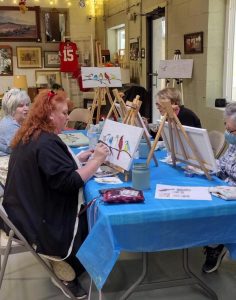 "That just got all the wheels in motion," she said.
Elgin said her painting classes are basically like a party.
"I try to just make it plain and simple. Some of the things I do are classes where I teach, and" some are people coming together to paint, she said, adding that her classes are fun.
"It's to serve them (patrons) and it's therapeutic," she said. "It just provides a place to be creative. A lot of people just need a push to start, and once you get them started and get them going, they'll mostly be doing their own style." 
Elgin said she's happy when people don't follow her precisely through a painting.
"I want them to venture out and take it where they want it to go," Elgin said, adding that she believes people attend her classes for the experience, memories, and entertainment.
"They get to take it home and they have something that they can remember" the experience, she said.
She strives to have students paint artwork they are proud of and can hang on their walls.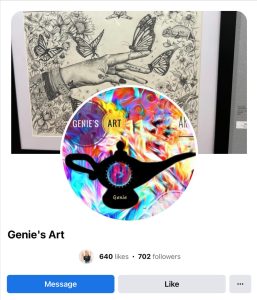 "You don't have to be great at painting, but you'll definitely want to learn something and be inspired," she said, adding that often, her students are ready to come back for another class.
Elgin plans to hold one to two classes each month. If she needs a bigger space for her classes, the mall can accommodate her request.
"Plus, they have this big, huge deck by the river, so when the weather gets warmer it's covered and screened in," she said. "That will be really cool to sit on the deck and paint." 
Elgin previously taught at Piedmont Arts and led classes at all the libraries in the Blue Ridge Regional Library system.
Classes are $25 per class per person. The canvas size depends on the focus of the project. 
Those interested in attending a class can contact her at (276) 224-0029 or email geniee@rocketmail.com.
For more information, visit Facebook.com/Genie'sArt or www.geniesart.com.