Beatrice (Bea) Martin Bullard was honored by Woodmen of the World at the Fieldale Pools on Friday, April 21, what would have been her 95th birthday.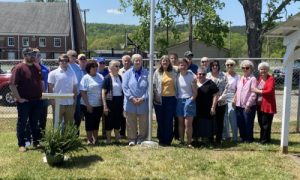 In recognition of Bea's tireless dedication to her community of Fieldale, the local chapter of Woodmen of the World donated a flag and flagpole that was installed last year at the Fieldale Pools. The flagpole was dedicated on Friday with Scott Koebel, Woodman of the World representative and Andrew Kahle, Recreation Center and Pools representative making remarks. The Fieldale Heritage Committee members provided refreshments. 
The ceremony was attended by Bea's children, Meryl, Keith and his wife Donna, Cheryl and her husband Bill, and her grandchildren, J.P., Casey, and Jeremiah. Also in attendance were members of the Fieldale Heritage Group, Recreation Center and Pools group, and community members. 
It is a fitting tribute that the pools were chosen as the site for the flagpole in Bea's memory given her extensive involvement in the Fieldale Heritage group and the group's purchase of the former Community Center property. The Heritage Committee was instrumental in the fundraising efforts undertaken to renovate and reopen the pools. The flag and flagpole will serve as a reminder of Bea's love for Fieldale and its people and her passion and unwavering efforts to preserve the community of Fieldale and its history for future generations.
The pools will be opening on Memorial Day, May 29.  Pool hours for 2023 are Monday through Thursday 10 a.m. -6 p.m., Friday and Saturday 10 a.m. – 5 p.m. and Sunday 1 p.m. – 5 p.m., weather permitting.  Summer memberships can be purchased ranging from $200 to $350 depending on the number in your household or you can pay by the day – Monday through Saturday is $10, and $5 on Sunday. For more information contact Fieldalerecandpooldirector@gmail.com.