Natalie Hodge, of Rudy's Girl Media, and Draper Flowers & Gifts were the 2023 recipients of the Clyde Hooker Awards. The winners were announced during the 21st Annual Clyde Hooker Awards Ceremony recently held at Piedmont Arts Association.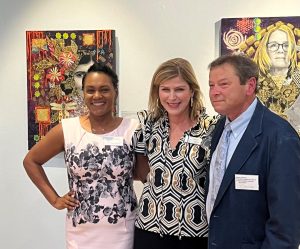 "Both believe the arts are crucial to building and sustaining a thriving community and have seen how the arts can be transformational to individuals and communities," said Heidi Pinkston, executive director of Piedmont Arts.
The award program was established in 2003 by the museum's board of directors to recognize exceptional businesses and individuals involved in and supporting the organization and other arts and cultural organizations in Martinsville-Henry County, Pinkston said.
"The award is named after J. Clyde Hooker, Jr., for his support of the arts. Forty individuals and businesses have received this prestigious award," Pinkston said.
Piedmont Arts Board member and granddaughter-in-law of Clyde Hooker, Olivia Garrett said Draper Flowers & Gifts is a model for the community.
"Their leadership, dependability, efficiency, artistry, and countless hours devoted to Piedmont Arts are exemplary," she said.
While it has served the community for over 50 years, Garrett said the business' reach stretches across the country "from showrooms as far as Dallas, Chicago, and Boston."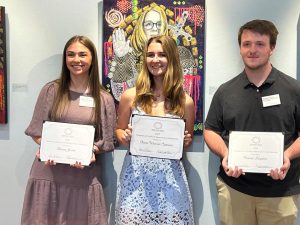 Draper Flowers & Gifts was started by Doris Draper in 1966. Draper's son Brad was involved in the business from an early age and continued to help the family business throughout the years. In 1993, Draper had the privilege of working on the floral committee for President Bill Clinton's inaugural ball. Shortly after, he worked on 11 floats for the Rose Bowl.
When accepting the award on behalf of Draper Flowers & Gifts, Brad Draper thanked his family, friends, and those who support the business.
 "When you have a small business, you know that without family and friends, you don't exist," he said.
Natalie Hodge is a writer, producer, owner, and founder of Rudy's Girl Media, a Martinsville-based multimedia content development company, First Vice President of the Piedmont Arts Board of Directors Shana LeGrant said.
"Although Natalie left Martinsville-Henry-County after high school when she returned to the community in 2016, she found a creative home at Piedmont Arts. In 2017, she joined the board of directors and in 2018 she danced Dancing for the Arts, not only raising funds but also community awareness of Piedmont Arts," LeGrant said.
Hodge also became board president in 2020, served as the MC for the 2022 poetry slam, and was the Small Business Chairperson from 2022-2023.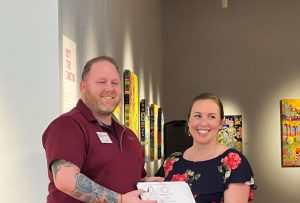 "Natalie is ideally suited for this award as she has actually spent decades pursuing her love for the arts. In her professional life, Natalie creates innovative multimedia content to shed light on relevant cultural and societal themes," LeGrant said.
Hodge received her bachelor's degree from Guilford College and a master's degree from Cornell University. She has over a decade of experience working in independent film and television.
"Piedmont Arts has a very special place in my heart," said Hodge. "As a child in this community, Piedmont Arts was a passport to places unknown. Places that we can't even go by plane, places in the recesses of our imagination," she said, and recalled having many date nights at Piedmont Arts with her now husband Hasan Davis.
Hodge and Davis were recently married in the art garden in front of the little post office. Hodge credited Piedmont Arts as being much more than an inspiration for a career.
"It's been my inspiration for life," she said.
Also honored at the ceremony were Nathan Hopkins, a senior at Magna Vista High School, and Claire-Warner Coleman, also a senior at Magna Vista. The two students were awarded the Nicodemus D. Hufford scholarship, a scholarship for youth wishing to pursue the arts.
Education Coordinator Sarah Short said Hopkins was accepted into Longwood University's music program.
"Nathan is a talented trumpet player who has participated in James Madison University's (JMU) summer band camps and has been an active member of Magna Vista's concert band, jazz band, and marching band programs," she said.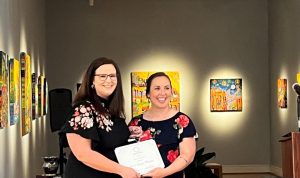 Short said Coleman was accepted into the Visual Arts program at the University of Virginia (UVA).
"Claire-Warner has been an active member of the Piedmont Arts Teen Arts Council throughout high school and has volunteered to paint faces, murals, and more during her time there. She has also received awards for her work as a student in the Piedmont Arts' Expressions Gallery Exhibit," she said.
The Harold Knowlton Work Memorial Scholarship was established in 2008 for college students pursuing a degree in the arts, Short said. The scholarship is funded annually through the Work Memorial Scholarship Fund, established by Julia Ascough Work, Harold Knowlton Work's wife.
"Julia and Harold shared a lifelong passion and respect for education and the arts. This memorial scholarship ensures that their legacy of learning and imagination lives on by supporting the artists of future generations," she said.
Ainsley Jones, a Bassett High School graduate and current Radford University Dance major, is one of the scholarship's recipients, Short said.
"Ainsley has dedicated her life to dance, and her instructor from Radford, Rachel Rugh, recommended Ainsley" for the scholarship. Rugh said Jones' "sense of human decency is as fully realized as her high level of dance technique."
Onyinye Ugbomah-Otunuya, a Martinsville High School student, also received the award. She is pursuing a B.A. in Graphic and Animation Design and Psychology at Longwood University.
Short said Ugbomah-Otunuya aspires to become an art therapist in the future.
Janet Lewis, a member of the organization's scholarship committee, said the 2023 Arts in Education Awards were awarded to Brain Lane, an AP English dual enrollment instructor at Martinsville High School, and Sarah Martin, a music teacher and 2009 graduate from Bassett High School.
"Brian believes that engaging students in the arts helps them develop the skills they will need in any career they choose – communication, collaboration, critical and creative thinking, and time management. He is also a firm believer that experiencing and participating in the arts helps everyone develop empathy and understand the world around us," she said.
Lewis said Martin started her career as the music teacher for grades 4-7 in Patrick County Public Schools in 2014 before she transitioned to Henry County Public Schools in 2016.
"She has led the elementary music programs at Axton, Campbell Court, Sanville, and Stanleytown elementary schools. Sarah has shared her love of music with hundreds of students in before-and-after-school choir programs," she said.
Lewis said Martin also works closely with Piedmont Arts to create performance and workshop opportunities for her students.