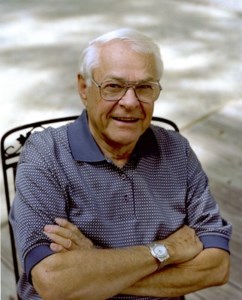 Dr. H. Marvin Midkiff, 97, of Sheraton Court, Martinsville, died early Wednesday morning, August 2, 2023, at his residence. He was born in Pittsylvania County on August 20, 1925, to Herman L. Midkiff and Ruby Barker Midkiff. He was a graduate of Dan River High School and attended William and Mary before serving in the Army during World War II. He went on to receive a DDS from Medical College of Virginia after the war and served as a dentist for the United States Air Force at Eglin Air force Base. He and his wife, Marjorie Dickie Midkiff, moved to Martinsville from Florida in 1953, where he opened his practice.
Marvin was an active member of First Baptist Church of Martinsville where he served in many capacities, including as a deacon and a Sunday School teacher. He was also active in the Virginia Dental Association and served as a board member for Patrick Henry National Bank and Carter Bank as well as at Averett University.
During World War II, Marvin served in the 42nd Infantry Division, the "Rainbow Division," seeing combat in Europe in 1944-45 and participating in the liberation of the Dachau concentration camp. After the war, Marvin continued to serve as a MP in Austria, before eventually returning to Virginia.
When not serving his patients as a Family Dentist, Marvin enjoyed many different activities during his long life. He was a confident boat captain on Philpott and Smith Mountain lakes, an amateur farmer in Patrick County and the favorite person of a series of English setters, Brittany spaniels and Labradors. He was even a motorcycle enthusiast for a brief period of time. Marjorie and Marvin especially enjoyed traveling, usually in the company of their friends who were members of the Bridge Club. In addition to his parents and his wife, he was preceded in death by a sister, Annie Kathryn Midkiff and a son, Dr. Kenneth Barker Midkiff (Robin).
He is survived by his remaining children, Dr. William M. Midkiff (Kathleen) of Chesapeake, M. Dickie Midkiff (Susan) of Richmond, and James E. Midkiff (Amy) of Keeling, a daughter-in-law, Robin Meyer (Kenneth), and seven grandchildren: Michael Midkiff (Emma), Dr. Will Midkiff (Brittany), Matthew Midkiff (Jordan), Max Midkiff (Carolyn), Caroline Midkiff, Henry Midkiff and Allison Midkiff.
A visitation will be held from 10:00 am to 11:00 am on Saturday, October 14, 2023 at the First Baptist Church of Martinsville.  A memorial service will follow at 11:00 a.m. and will be officiated by Reverend Dr. Libby Grammer.
Memorial contributions may be made to the First Baptist Church of Martinsville, 23 Starling Avenue, Martinsville, VA. 24112.
McKee-Stone Funeral Home, Martinsville, Va. is serving the family. To express condolences online, please visit www.collinsmckeestonemartinsville.com.