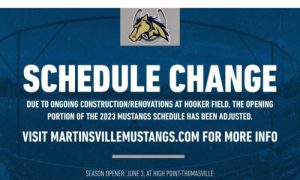 Next P.L.A.N. Athletics and the Martinsville Mustangs announced that Opening Day for the 2023 season at Hooker Field has been pushed back to Friday, June 9. It was originally scheduled for Thursday, June 1.
The slight delay was needed due to ongoing construction and improvements at Hooker Field. 
While the delay is regrettable, the much-needed renovations will enhance the fan experience and provide an even better baseball environment for fans and players alike. 
Despite the delayed start, the Mustangs will still play all 26 home games and a revised schedule will be released soon. 
Martinsville will now open the 2023 regular season on the road at High Point-Thomasville on Saturday, June 3, and will play all road contests as scheduled. 
Upgrades to Hooker Field include a renovated concession stand, restrooms, press box and broadcast booth, office, two suites, and a covered reserved seating area. The new additions are expected to increase fan comfort, accessibility, and overall enjoyment of the game. 
"We understand that fans are eager to see their Mustangs back in action, but we want to assure everyone that the delay is worth the wait," said Mustangs President, Jason Davis. "The new additions will be transformational, and we can't wait to share it with the community." 
The Mustangs have a long and proud history in Martinsville, and the team is committed to delivering a top-quality baseball experience for fans of all ages. 
For more information on the Martinsville Mustangs and the upcoming 2023 season, please visit the team's website at www.martinsvillemustangs.com. The team can also be contacted via email at info@martinsvillemustangs.com