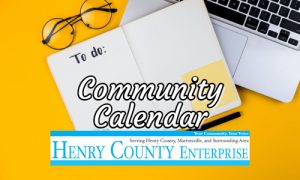 (Event information/calendar items must be received by 5 p.m. on the Tuesday before the desired publication date. Email to dhall@theenterprise.net.)
Saturday May 20
The Friends of the Blue Ride Regional Library will be hosting local author Andy Miller, Saturday, May 20 at 10am, at the Martinsville branch Library's meeting room, 310 E. Church St., Martinsville. Andy Miller will be discussing his book, "Pamir 62 Heroes are Forever," about his time as an Army helicopter pilot in Afghanistan. Mr. Miller will have copies of his book for sale! Don't miss an opportunity to visit with a local author & military hero. 
Bassett Cruise In, 3-7 p.m. at Bassett Furniture World Headquarters, Fairy Stone Park Highway, Bassett. All makes and models welcome. Free Admission. Food Court. Call (276) 629-3117 for more information. 
Butterfly Painting Workshop with Award Winning Artist – Lisa Garrett, 9 a.m. to 12:30 p.m. at Imagination Lavender Farm, 3590 Green Hill Drive, Martinsville, To register call or text (276) 734-2828.  Limited Seating – $40 includes supplies and a light lunch.
Entry opens at 10 a.m. for the Expressions Artwork exhibit at Piedmont Arts. Submissions are accepted from all artists living within a 100-mile radius of Martinsville. Artwork submitted for entry must have been completed within the last three years. Work previously exhibited in Expressions is not eligible. Up to two pieces of art may be submitted per artist. Unlike a juried exhibition, Expressions is open-entry, and all submitted works in compliance with the entry rules are accepted. Cash prizes will be awarded for first, second and third place in seven categories, as well as purchase awards, the Lynwood Artists Award and Best In Show.
Tuesday, May 23-Saturday, May 27
Monet & Milkshakes Painting Class with a Frozen Dessert, free class for ages 18 and up, at 2:30 p.m. in branches of the Blue Ridge Regional Library: Ridgeway, May 23; Collinsville, May 24; Bassett, May 26; Martinsville (main), May 27. Registration is required by calling the branch of interest. 
Friday, June 2
Expressions Opening Reception, 5:30 p.m. at Piedmont Arts. Free and open to the public. Complimentary wine and light refreshments will be served.
Saturday, June 3
Patrick Henry Volunteer Fire Department's Hamburger Steak Fundraiser, 4 to 7 p.m. at 3125 County Line Road, Patrick Springs. Plates include hamburger steak, slaw, baked beans, French fries, dessert and drink for $10. Eat in or take out, call (276) 629-7677.
Storytime – Spencer-Penn Centre at 10 a.m. This monthly program will include special readers, crafts, and other fun activities related to Father's Day. Free program, fit for all ages. No registration needed.
Friday, June 9
Music Night at Spencer-Penn, with The Country Boys to play in Alumni Hall. Gate opens at 5 p.m. with the band starting at 6:15 p.m. Admission is a $5 donation. Come enjoy some great music and dancing! Concessions will be sold. 
ONGOING
Saturdays, April 29-November 18
Martinsville Uptown Farmers' Market is open from 7 a.m. to noon, with the freshest fruits and veggies, homemade snacks, locally raised beef, and more. July 5-September 27, the market is open Wednesdays from 7 a.m. to noon.
Free 'Shred Days' set for April, hosted by ValleyStar Credit Union.  
May 19, Martinsville Speedway, Martinsville, 1 to 6 p.m.
May 20, ValleyStar Collinsville branch, Collinsville, 10 a.m. to 2 p.m.
June 3, ValleyStar Roanoke branch, Roanoke/Rocky Mount, 10 a.m. to 2 p.m.
RSVP for reminders as the date(s) approaches, or for more information, visit ValleyStar Credit Union's Facebook.
The Blue Ridge Regional Library offers free one-day passes to the Virginia Museum of Natural History and the Henry County YMCA with your library card. The passes are good for one day and exclude special events. There is a wait period before you can check out the pass again. For more details and exclusions, visit brrl.lib.va.us. 
The Fontaine Ruritan Club hosts Bingo every Tuesday at 1903 Joseph Martin Highway, Martinsville. Doors open at 5:30 and games begin at 7. Money from Bingo supports community service awards, scholarships, and other community efforts. 
Book Bingo on the 4th Tuesday of the month at the Martinsville Branch of the Blue Ridge Regional Library, 11 a.m. to noon. Call (276) 403-5430 to register. 
The Disability Rights and Resource Center (DRRC) will be represented at the Henry-Martinsville Health Department in Martinsville every third Wednesday afternoon to provide information to health department visitors about DRRC and its services.
MHC Coalition for Health and Wellness (MHCCHW) offers "no-touch" Medicaid/FAMIS application assistance for Virginia residents from birth to 64 years of age. No sign-up fees, no premiums, no deductibles. MHCCHW's specially trained Medicaid/FAMIS Outreach Advocate can answer questions, and help you apply by phone Monday – Friday, 8 a.m. to 5 p.m. In-person assistance is available on Wednesdays 10 am to 1:30 at Community Storehouse 128 E. Church St. (lower level of the old Leggett Building) Martinsville. Call or text Ann Walker at (276) 732-0509.
The Henry County Adult Learning Center offers free in-house and online classes to help prepare for college, career, or earn your high school equivalency or GED. Call (276) 647-9585. 
Trail Trekkers meet as a group on Thursdays (1 p.m. Fall & Winter; 9:15 a.m. Spring & Summer) and walk along a different trail each week. Explore the trails of Martinsville-Henry County, make new friends, and get some fresh air and exercise. Call Henry County Parks & Recreation (HCPR) Senior Services to find out more at (276) 634-4644. 
Ride and Dine Friday afternoons with members of the Henry County Bike Club. Fellow cyclists meet at the Liberty Street access point of the Dick & Willie Trail to put in some miles and refuel with lunch at a different eatery each week. For more information, call Marti at 276-358-1312. Rides are year-round but are canceled if it's raining or if the temperature is below 50 degrees.