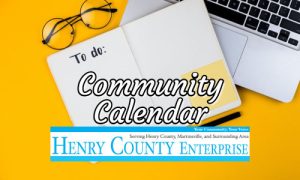 (Event information/calendar items must be received by 5 p.m. on the Tuesday before the desired publication date. Email to dhall@theenterprise.net.)
Meetings
Tuesday, April 11
The Martinsville City School Board will hold a Special School Board meeting at 6:30 p.m. in the MCPS School Board Central Office, 746 Indian Trail, Martinsville.
Wednesday, April 12
Henry County Planning Commission, 6 p.m., Summerlin Meeting Room, Henry County Administration Building, Kings Mountain Road, Collinsville.
Public input meeting to acquire community recommendations for an Arts & Cultural Master Plan for the city of Martinsville, 6- 8 p.m., New College Institute, 191 Fayette Street, Room 207,
Martinsville.
Thursday, April 13
Henry County School Board monthly meeting, 5:30 p.m., 1st Floor, Summerlin Room, County Administration, Building, Collinsville.
The Martinsville City School Board will hold a regular meeting at 6:15 p.m. in the Council Chambers at the Martinsville City Municipal Building 5 W. Church Street Martinsville.
Wednesday, April 19
Martinsville Planning Commission and Architectural Review Board will hold a joint public meeting on April 19, beginning at 4 p.m. in Council Chambers, located in the Martinsville Municipal Building.
Events
Friday, April 7
Good Friday service at 7 p.m. in the First United Methodist Church Sanctuary, 146 E Main St. Martinsville.
Saturday, April 8
Holy Saturday, the chapel will be open from 10 a.m. – 2 p.m. for prayer. First United Methodist Church, 146 E Main St. Martinsville.
Sunday, April 9
Easter Morning Worship will be at 11 a.m. in the sanctuary, First United Methodist Church, 146 E Main St. Martinsville. Service features the Chancel Choir and Brass 5 from Roanoke, VA.  There will not be an early service. (Prelude begins at 10:45 am.)
Sunrise Service, 6:30 a.m. at Blackberry Baptist Church in Bassett.
A dramatic presentation of "The Living Lord's Supper," to celebrate Easter. The presentation will depict Leonardo da Vinci's "The Last Supper." Thursday and Friday at 7 p.m., Sunday at 5 p.m. at Fort Trial Baptist Church, 170 Oak Level Road, Stanleytown. The Rev. Daniel Reed is pastor. Call (276) 629-2964.
Monday, April 10
The Friends of the Blue Ridge Regional Library will hold their monthly meeting at 10:30 a.m. in the Collinsville Branch, 2540 Virginia Ave., Collinsville. Interested in joining? Everyone is welcome!
Tuesday, April 11
Joseph P. Lovell, author, will discuss his book, "Echoes of Sandy Creek," at 10:30 a.m. in the Susan L. Adkins Memorial Meeting Room of the Bassett Historical Center. The event is free, and all are invited.
Tuesdays, April 11 and 25
Chix with Stix, 10:30 a.m., Piedmont Arts. Knitters are invited to work together in the Piedmont Arts classroom on the second and fourth Tuesday of each month. Sessions are self-guided and provide a space to socialize while creating. Bring your own supplies. Free to members. $5 for non-members (pay at the door). Advanced registration required.
Wednesday, April 12
The General Joseph Martin Chapter of the Daughters of the American Revolution (DAR) will meet at 10:30 a.m. at Hugo's Restaurant. Host is Mabel Peters. The program is Preston-Smithfield Plantation, with presenter Karen Finch, DAR State Chair for the Shrine. Lunch to follow meeting.
Friday, April 14
Red Cross Blood Drive from 1 to 6 p.m. at Blackberry Baptist Church in Bassett.
Music Night at the Spencer Penn Center. New River Line will play in Alumni Hall. Gate opens at 5 p.m. with the band starting at 6:15 p.m. Admission is a $5 donation. Concessions will be sold. 
ONGOING
Free 'Shred Days' set for April, hosted by ValleyStar Credit Union.  
April 29, The Home Depot, Danville, 9 a.m. to 1 p.m. 
May 19, Martinsville Speedway, Martinsville, 1 to 6 p.m.
May 20, ValleyStar Collinsville branch, Collinsville, 10 a.m. to 2 p.m.
June 3, ValleyStar Roanoke branch, Roanoke/Rocky Mount, 10 a.m. to 2 p.m.
RSVP for reminders as the date(s) approaches, or for more information, visit ValleyStar Credit Union's Facebook.
The Blue Ridge Regional Library offers free one-day passes to the Virginia Museum of Natural History and the Henry County YMCA with your library card. The passes are good for one day and exclude special events. There is a wait period before you can check out the pass again. For more details and exclusions, visit brrl.lib.va.us. 
The Fontaine Ruritan Club hosts Bingo every Tuesday at 1903 Joseph Martin Highway, Martinsville. Doors open at 5:30 and games begin at 7. Money from Bingo supports community service awards, scholarships, and other community efforts. 
The Disability Rights and Resource Center (DRRC) will be represented at the Henry-Martinsville Health Department in Martinsville every third Wednesday afternoon to provide information to health department visitors about DRRC and its services.
MHC Coalition for Health and Wellness (MHCCHW) offers "no-touch" Medicaid/FAMIS application assistance for Virginia residents from birth to 64 years of age. No sign-up fees, no premiums, no deductibles. MHCCHW's specially trained Medicaid/FAMIS Outreach Advocate can answer questions, and help you apply by phone Monday – Friday, 8 a.m. to 5 p.m. In-person assistance is available on Wednesdays 10 am to 1:30 at Community Storehouse 128 E. Church St. (lower level of the old Leggett Building) Martinsville. Call or text Ann Walker at (276) 732-0509.
The Henry County Adult Learning Center offers free in-house and online classes to help prepare for college, career, or earn your high school equivalency or GED. Call (276) 647-9585.