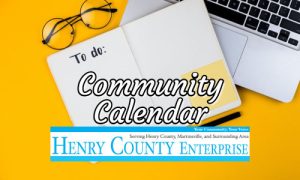 (Event information/calendar items must be received by 5 p.m. on the Tuesday before the desired publication date. Email to dhall@theenterprise.net.)
Monday, March 20
P&HCC College Board meeting will be held at 12:30 p.m. in the Hooker Exhibit Hall, Frith Economic Development Center. 
Events
Saturday, March 25
The Harvest Youth Board's Books & Bunnies, which features an Easter Egg Hunt, crafts, interactive activities, food trucks and books, 11 a.m. to 2 p.m. at the Smith River Sports Complex Amphitheater, 1000 Irisburg Road, Axton. 
Blue Ridge Regional Library presents "Look & Learn Makeup Master Class," 2:30 to 4 p.m. Angel Moyer, professional makeup artist and owner of Angel Face Beauty Co., teaches you the tips, tricks, and techniques for applying simple, natural makeup that makes you feel beautiful in your own skin. Attendees will be entered into a drawing for a chance to win a makeup goody gift bag. This class is for adults ages 18 & up. Registration is required due to limited space. For more details and registration call (276) 403-5430.
Sunday, March 26
TheatreWorks Community Players will hold a Volunteer Open House from 2 to 3 p.m. at the Blackbox Theatre 44 Franklin St, Martinsville, VA 24112. Attend to learn about opportunities to volunteer with Theatreworks Community Players. Contact info@twcp.net.
Tuesday, March 28
Book Bingo at the Martinsville Main Library will be held from 10 a.m. to noon. The event is free. Registration begins on March 21. 
The Southern Gentlemen Bluegrass Band will perform at 10 a.m. in the Historical Center's Susan L. Adkins Memorial Meeting Room. The event is free.  
Saturday, April 1
Storytime and Easter Egg Hunt at 10 a.m. at the Spencer Penn Centre. This monthly program will include special readers, crafts, and other fun activities. Come out and join us for this free program, fit for all ages! No registration needed.
Family Easter Celebration, 10 a.m. at Fort Trial Baptist Church, 170 Oak Level Road, Stanleytown. Games, Egg Hunt, Crafts, Bible stories, prizes and free lunch.
Friday, April 14
Music Night at the Spencer Penn Center. New River Line will play in Alumni Hall. Gate opens at 5 p.m. with the band starting at 6:15 p.m. Admission is a $5 donation. Concessions will be sold. 
Wednesday, April 19 
A Family Council hosted by United Way of Roanoke Valley and Ready Region West is scheduled for 6:15 p.m. at YMCA Early Learning Center at Smith Memorial Methodist Church, 2703 Daniels Creek Road, Collinsville. All councils are offered virtually and in person. Register at https://form.jotform.com/223196215161147.
Saturday, April 22
12th Annual Pig Cookin! BBQ contest at the Spencer Penn Centre from 10 a.m. to 4 p.m.  Event includes a Cruise-In, Pig Pattie Bingo, Barnival, Craft and Vendor Booths, Concessions, and more. Free admission, food sales start at 11 a.m.  This is a cash only event. For any questions, contact the centre (276) 957-5757 or spc.susan@yahoo.com.
ONGOING
"Together" exhibit, open Sundays noon to 3 p.m. at Morning Star Holy Church, 2839 Stoney Mountain Road, Martinsville. 
Sunday Group Ride, Mountain Laurel Trails, 361 Mountain Laurel Trail, Ridgeway, 2 p.m. on Sundays. Nearly 10 miles of hand and machine constructed single-track trails are almost complete and based on a stacked-loop design. The 4 mile Central Loop is the "core" trail that all other optional trails are connected. Many of the trails border creeks and water while others meander through the woods or ridge-tops. These trails were specifically designed to appeal to all skill levels, beginner to advanced. It remains a work-in-progress, with signage, maps, parking lot facilities (outhouse/information board), along with optional technical trail features like skinnys and rock gardens that are in the planning. Call (276) 340-9144 for more information.
Henry County Parks & Recreation invites you out for a trek along the trail. Call the HCPR Senior Services office at (276) 634-4644 to find out where the week's trek is happening! Trail Trekkers meet Thursday of each week (weather permitting) at 1 p.m. in the fall and winter and 9:15 a.m. in spring and summer.
The Blue Ridge Regional Library offers free one-day passes to the Virginia Museum of Natural History and the Henry County YMCA with your library card. The passes are good for one day and exclude special events. There is a wait period before you can check out the pass again. For more details and exclusions, visit brrl.lib.va.us. 
The Fontaine Ruritan Club hosts Bingo every Tuesday at 1903 Joseph Martin Highway, Martinsville. Doors open at 5:30 and games begin at 7. Money from Bingo supports community service awards, scholarships, and other community efforts. 
The Disability Rights and Resource Center (DRRC) will be represented at the Henry-Martinsville Health Department in Martinsville every third Wednesday afternoon to provide information to health department visitors about DRRC and its services.
April is National Second Chance Month. The Virginia Department of Corrections is hosting a four-part virtual series in April each Wednesday from 10 to 11 a.m. as a resource to educate and inform. Topics include gun violence, community college workforce partnership, bridging gaps through hope and recovery, and from adolescence to adulthood. The sessions are open to the public. Participants can join each session via this link: https://vadoc-virginia-gov.zoom.
MHC Coalition for Health and Wellness (MHCCHW) offers "no-touch" Medicaid/FAMIS application assistance for Virginia residents from birth to 64 years of age. No sign-up fees, no premiums, no deductibles. Income Guidelines have increased effective 1/18/2023. If you applied in the past and were denied, please call again. MHCCHW's specially trained Medicaid/FAMIS Outreach Advocate can answer questions, and help you apply by phone Monday – Friday, 8 a.m. to 5 p.m. Medicaid renewals will resume soon. Medicaid members need to update their mailing address and contact information. Having accurate information will make sure they receive what is needed to renew their coverage.
In-person assistance is available on Wednesdays 10 am to 1:30 at Community Storehouse 128 E. Church St. (lower level of the old Leggett Building) Martinsville. Call or text Ann Walker at (276) 732-0509
The Henry County Adult Learning Center offers free in-house and online classes to help prepare for college, career, or earn your high school equivalency or GED. Call (276) 647-9585.