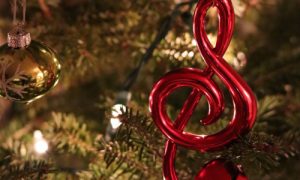 The Martinsville-Henry County Historical Society will hold its popular annual Christmas Music Program this year in conjunction with Martinsville Uptown's North Pole Jingle.
Businesses across Uptown – most with special events and activities — will be open until 8 p.m. Friday, Dec. 1, for the North Pole Jingle. Highlights will include the Tree-Lighting Ceremony at 5:30 p.m., with Santa Claus and the Magna Vista High School Choir.
The Historical Society's Christmas Music program will be held from 7-8 p.m. that night in the courtroom of the Historic Henry County Courthouse at 1 E. Main St. Featured performers will be Valeria Edwards, Joanne Linscott, John Fulcher, Beth Chapman, Virginia King, Davis Scott, Regula Daily and Lynn Pritchett. Peter Marshall will give remarks on the history of Christmas music.
The Martinsville-Henry County Heritage Center and museum in the Historic Courthouse will be open that evening, along with its Gift Shop which includes Christmas ornaments, books, fairy stone jewelry, shirts and other gift items.
The Historical Society normally holds the Christmas Music Program as part of its Sunday Afternoon Lecture Series.
Other participants in the North Pole Jingle include:
The 3D Shop, with a lithophane station

American Patriot Liquidation

BlueTattoo, with festive coloring

Collins-McKee-Stone Funeral Home, with goodie bags for children

Forever Younger

Gallery 22

Glitzy Mermaids, with an ornament station and mermaid hair

The Ground Floor

Holland Accounting, with letters to Santa

Martin Plaza, with an open house

MHC Elite Cheer

Oakstone Health & Nutrition, with healthy holiday treats

Sweet Heaven, with festive coloring and reindeer candy canes

Studio 107, with an ornament station

Uptown Partnership, with an ornament station

Uptown Roxie Suites & Camille Slayyyed That, with cookies and a photo booth
Additionally, Holidays at the Market at the farmers market site will feature vendors, and Santa Claus will be there from 6-8 p.m.