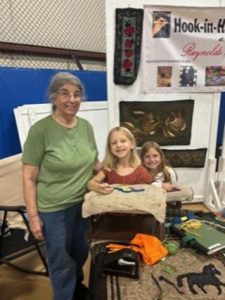 This past Saturday, the Blue Ridge Institute hosted the 50th annual Blue Ridge Folklife Festival. Spread across the beautiful Ferrum College campus, the festival hosted a number of activities. Vendors crossed county and state lines to showcase classic cars, antique engines, and traditional handicrafts for thousands of visitors. Across the street, the Blue Ridge Farm Museum hosted livestock demonstrations and competitions in the midst of a recreated nineteenth century farmstead. The festival began at 10 and was scheduled to end at 5, but that did not seem long enough for visitors to see everything available. 
After walking through the Farm entrance, bluegrass music was heard over passing cars, drawing just as many people as the nearby BBQ vendor. 
James Houchins, Patrick County Tourism Director, was seen smiling and nodding his head in time to the beat. He explained that he believes in forming mutually beneficial partnerships with neighboring counties to foster economic growth and community uplift. When asked if the Patrick County Tourism department would be interested in sponsoring the festival, Houchins agreed and sponsored one of four tents dedicated to live music.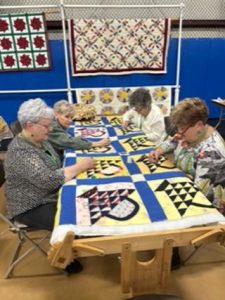 Just before lunch, Henry County resident Darren Moore climbed the stage with his acoustic guitar and played with the New North Carolina Ramblers. Band leader Kinney Rorrer, of Danville, explained that his great uncles Posey Rorrer and Charlie Poole helped form the original Ramblers in the 1920s in Franklin County. They were the first to record the well-known bluegrass song "I'll Roll in My Sweet Baby's Arms" in New York for Columbia Records. The New Ramblers ended their set with this song, bringing several flat footers to the dance floor. 
Across from the music stage, a children's play area provided younger guests with old-time entertainment. Using burlap sacks, kids raced each other and their parents, pitched horseshoes, and tested their strength playing tug-of-war. The highlight, however, was a pile of hay in the corner where kids searched for candy. 
The Franklin County Parks and Recreation tent situated at the side of the play area, hosted a checkers tournament for children and adults. Marcia Cramblitt, manager of the Office of Aging and Recreation, explained that originally Parks and Rec hosted checkers and horseshoes, before changing to cornhole. She said the time seemed right to bring checkers back. Thomas Walker and son Bailey, both of Stuart, took home first place trophies for the adult and child tournaments.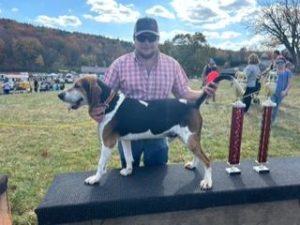 A few yards away from the play area, livestock demonstrations began. One farmer brought sheep and demonstrated how he uses his dog to herd livestock safely. Several farmers brought draft horses, displaying their strength in pulling thousands of pounds of weight effortlessly. Others brought their mules for a jumping contest, but the animals' resistance revealed that mules are just as stubborn as ever. Early in the afternoon, the Coonhound dog contests began. "Smoke," a Treeing Walker Coonhound from Floyd, took home first place in the water race and water treeing contest. 
Back on the college campus, food and drink vendors worked tirelessly to fill orders. Along with BBQ and fried chicken, vendors offered milkshakes, lemonade, and coffee – which one person made with a nineteenth century steam engine. Unsurprisingly, moonshine booths became some of the most popular. Vendors offered tastings, explained the process of making moonshine, and shared some of the lore of local moonshine history.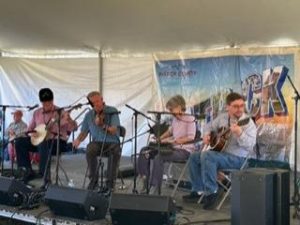 Houchins explained that he has been working with Franklin County Tourism Director Kevin Tosh and Floyd County Tourism Director Kathleen Legg on creating a Moonshine Heritage Trail that will pass through Patrick, Franklin, and Floyd counties, eventually including Henry as well. 
After experiencing several demonstrations of nineteenth and early twentieth century engines and tractors, visitors eventually entered the traditional handicraft area. Vendors offered items for sale of course, but the draw for many was seeing the traditional process for making them. Henry County group the Pleasant Quilters began learning to hand quilt in 2004. Libby Bondurant, of Figsboro, explained that the group started about 60 years ago, and the original members have all passed away. 
"When I retired in 2004, I went to the group and said 'If y'all don't teach us how to quilt it's going to become a lost art,' she said, and they said, 'Sure, come on!'" 
The Pleasant Quilters take quilt tops from others, add the backing, and hand quilt it to give to those who need it. Next to the Pleasant Quilters, Reynolds Homestead had a table with several women rug hooking. Leslie Marsh, owner of Uptown Suites of Stuart, explained that women would take old clothes, cut strips, and pull the strips in various designs through feed sacks to make rugs. Some artisans sell these for hundreds of dollars, but Marsh explained that she sells some for much less than that while the rest are used as they were meant to be – as rugs.
If you've never had the pleasure of attending the Blue Ridge Folklife Festival, save the date for next year! It is always held on the fourth Saturday in October. 
A few tips for first timers: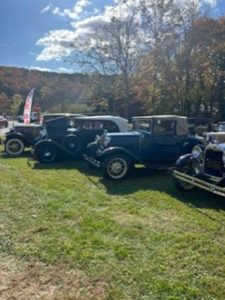 Buy admission tickets online. Not only are the tickets cheaper, but you get to skip the long line of people waiting to purchase tickets on the day of the event.
Check the weather. There isn't a lot of shade, and the festival is spread out. If it's going to be sunny and hot, bring your sunscreen and maybe an umbrella.
Arrive early. A lot of people attend the festival. Arriving early can help you get a better parking spot! Also, most of the classic cars left before 3 p.m. and antique tractors began leaving soon after, so arriving early allows you more time to view them.
Be prepared to walk. Parking is free, but thousands of people attend the festival, so you'll probably have to park a good distance away from the campus unless you arrive early. Also as mentioned earlier, the events are spread out over the campus and Farm Museum.
Bring chairs or a blanket to sit on. There are some seating options but not many. The various demonstrations can last anywhere from 15 minutes to an hour, so bringing something to sit on can make watching these more enjoyable.
Plan for meals. Food and drinks weren't cheap, so if you'd rather spend money on crafts, bring food and drinks with you. That stated, the food was amazing, so if you want to try it, be prepared to spend!
Bring cash. Several vendors accept cards, but having cash made many transactions easier.