The Martinsville-Henry County Historical Society will sponsor a "Be Part of History" Blood Drive in celebration of Local History Month in Virginia on Thursday, October 19, from 10 a.m. to 3 p.m., at the Historic Henry County Courthouse, 1 East Main Street.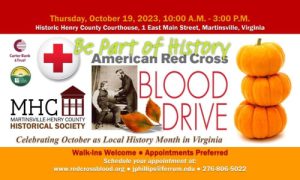 According to the American Red Cross, blood product distributions to hospitals are outpacing the number of blood donations coming in. The Red Cross is working with hospitals around the clock to meet the blood needs of patients but cannot do it alone. As a token of gratitude during this critical time, each donor will receive a $15 Amazon.com gift card by email. First-time donors, Power Red donors, and those reaching milestones are especially welcome. Schedule your appointment TODAY at www.redcrossblood.org or contact John Phillips at 276-806-5022 or jphillips@ferrum.edu. 
Phillips, historical society president and Ferrum College nursing professor, said, "Seasons may change, but the need for blood is constant. Right now, the blood supply is in a crunch and has fallen about 25% since early August." 
The Martinsville-Henry County Historical Society owns and operates the Historic Henry County Courthouse which houses the Martinsville-Henry County Heritage Center & Museum which will be open during the blood drive. It is also open Tuesday-Friday, 1:00-4:00 P.M., due to our generous donors and corporate sponsors, Carter Bank & Trust and The Lester Group. The building and grounds are fully handicap accessible.