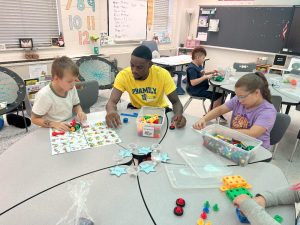 Patrick & Henry Community College student athletes are making early morning visits to Stanleytown Elementary School this fall as part of their Breakfast Buddies program. In its second year, the program is an outreach effort to support students at the local elementary school and encourage them to work toward their goals. 
"Breakfast Buddies is a great opportunity for our student athletes to give back to the community they go to school in, while also making a huge impact on the kids they're interacting with. The premise of this program is to build relationships and to show up. Our hope is that P&H students will quickly see the power of their consistent presence in the classrooms and understand the bigger picture," said P&HCC's Assistant Athletic Director Ruthanne Duffy.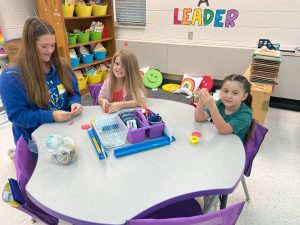 Student athletes from P&HCC's 20 teams visit Stanleytown Elementary Monday through Friday from 7:30-8:05. They spend time with elementary partners discussing math problems, sharing breakfast, and developing relationships with students through conversation.
"We started Breakfast Buddies with the understanding that we were out here to be a positive influence and have realized that these elementary students are making just as big of an impact on us each morning," said Duffy.