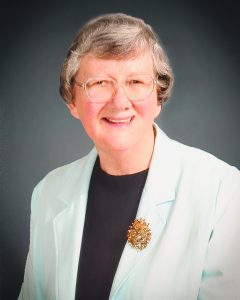 Aileen Bishop Collins of Martinsville, Virginia passed away on August 11, 2023, at the age of 88.  She was born in Claudville, Virginia to the Rev. Jesse Franklin Bishop, Jr. and Mable Marie (Scott) Bishop on January 23, 1935.
Aileen attended schools in Virginia and West Virginia.  She was a 1953 graduate of Big Creek High School in War, West Virginia.  In 1955 she married Willie Lowell Collins, Sr. of Martinsville and settled in Ridgeway, Virginia.  She worked for DuPont from 1956 to 1962.  Aileen had an adventurous spirit; she visited Canada, Mexico, and all 48 states in the contiguous USA.  In 2005, at the age of 70 she completed personal computer training and became a social media missionary.
Aileen was a faithful member of Wilson Street Pentecostal Holiness Church for 68 years, and a devoted wife, mother and grandmother.  Aileen taught Sunday school at Blue Ridge Nursing Center for 36 years and supported other church programs such as world missions, the girl's ministry and the Bible Quiz Team.
Aileen was preceded in death by her parents, her husband and a sister, Yvonne Bishop Green.  Aileen is survived by her daughter, Stephanie C. Clark (Kenton) of Blacksburg, Virginia; her son, Willie L. Collins, Jr. (Janet) of Kernersville, NC; and six grandchildren, Benjamin T. Clark, Virginia L. Clark (Zachary W. Tolson), Elizabeth C. Stroud (Caleb), Jonathan W. Collins, Joshua L. Collins and Victoria C. Collins.  Aileen is also survived by two sisters, Margaret B. Rogers of Dublin, Virginia and Marie B. Hollingsworth of Bay Minette, Alabama; a brother, J. James Bishop (Brenda) of Oak Ridge, NC; along with many nieces and nephews.
The funeral will be held at Roselawn Chapel Funeral Home in Martinsville, Virginia on Monday, August 21, 2023, at 11 a.m., preceded by visitation at 10 a.m.
In lieu of flowers, memorials may be made to Wilson Street Pentecostal Holiness Church of Martinsville, Virginia or to the International Pentecostal Holiness Church, World Missions (https://iphc.org/missions/).