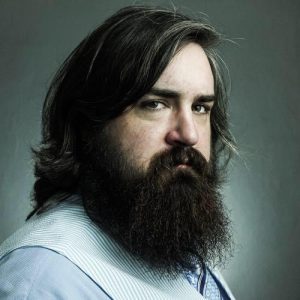 It's official: Tucker Carlson, host of Tucker Carlson Tonight and man who constantly looks like he's trying to determine whether there's a gas leak in his house, has been unceremoniously fired from Fox News. 
     Many questions remain. Did Carlson leave voluntarily because he was tired of lying to the American people every night and wanted to spend more time lying to his family?
     No.
     Was he fired because his lies about Dominion Voting Systems helped trigger a defamation suit that cost Fox News $787.5 million dollars, underlining the fact that billionaire ghoul Rupert Murdoch doesn't care about red or blue, just green?
     Yes, it's this one.
     And so, after giving it some more thought, I guess only one question remains: who will be brought in to fill Tucker Carlson's Sperry boat shoes?
     As it happens, I went to the Fox News yard sale last weekend and spent 37 cents on a box containing Shepard Smith's battered dignity and Greta Van Susteren's original face. It was only when I got the box home that I discovered it also contained a secret folder, the contents of which I will share today.
     Below are Fox News' top picks for Tucker Carlson's Great Replacement: 
Father Charles Coughlin
     PROS: Who better to replace Tucker Carlson than the man who wrote his playbook? Father Charles Coughlin has extensive experience in radio and his charisma should easily transfer to television. While his Catholicism may turn off some Fox News viewers, his anti-semitism and full-throated support for fascism will bring them right back.
     CONS: His radio program was banned by Franklin Roosevelt in 1939 after he offered his support for policies in Nazi Germany and Fascist Italy. Also, he's been dead since 1979 and would be 132 years old if he were still alive. 
Joseph Goebbels
     PROS: When it comes to spreading nationalist propaganda, it's hard to beat Joseph Goebbels. While much of his experience was in radio and film, there's little doubt he would dominate prime-time television.
     CONS: He only ran the Propaganda Ministry for 12 years, meaning his experience pales in comparison to Carlson's. Also, he killed himself in 1945. 
Mr. Peanut
     PROS: With his top hat, monocle, and spats, Mr. Peanut embodies the out-of-touch elitism that viewers loved when tuning in to watch Tucker Carlson. Additionally, Mr. Peanut is willing to sell out his own species to pad his wallet, which ethically aligns him with the overall theme of Carlson's program.
     CONS: Fictional, and possibly dead based on those confusing commercials from a few years back. 
Alex Jones
     PROS: While he lacks the the thin veneer of respectability that Tucker Carlson brought to the table, Alex Jones offers remarkably similar content. His loud, gravelly voice commands attention, and viewers will want to tune in every night to see if this is finally the episode where his heart explodes on live television.
     CONS: Jones is somehow an even bigger legal liability than Carlson, and he isn't vocal enough on the topic of attractive candy mascots. 
Uncle Ricky
     PROS: Uncle Ricky has been the Tucker Carlson of family get-togethers for the better part of eight years and has memorized all of Carlson's most popular talking points. In fact, he's incapable of discussing anything else. 
     CONS: It will be difficult for Uncle Ricky to generate new content since he can only repeat what he's heard from Carlson. Also, unlike Carlson, he actually believes this stuff and could present a COVID risk to the office.
Don Lemon
     PROS: Suddenly available and probably affordable.
     CONS: No one cares about Don Lemon.