Dancing for the Arts, Piedmont Arts' biennial fundraiser will return in 2024. On Saturday, March 9 at 4 p.m., local celebrities will take to the Martinsville High School stage to dance their way to winning both votes and the highest judges' score. Voting is open now.
This fabulous fundraiser returns with a fresh slate of local celebrities dancing in support of the arts in Martinsville-Henry County. The contest features eight teams competing to win the most votes, the highest score from the judges and a set of gorgeous mirror ball trophies handcrafted by local artist Terry Mitchell.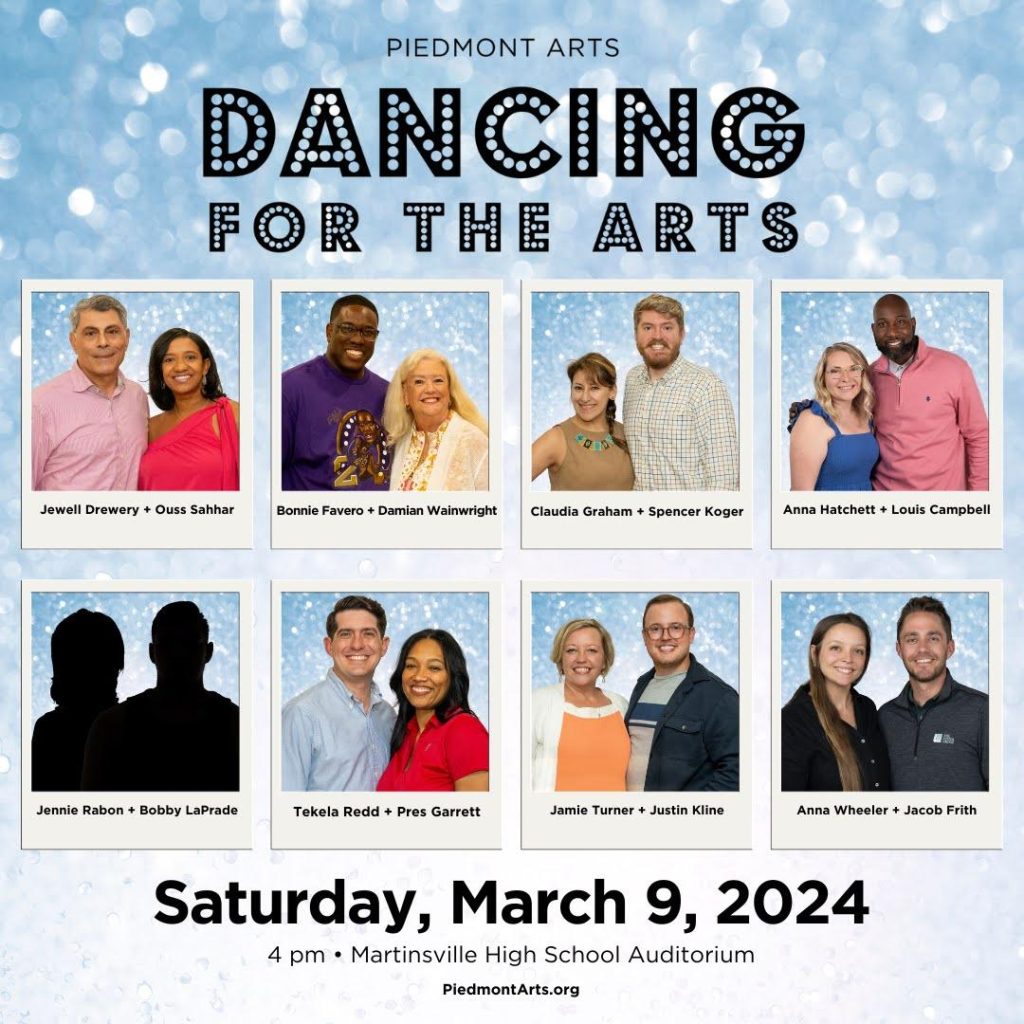 The teams competing in Dancing for the Arts 2024 are:
Jewel Drewery (Realtor, Rives S. Brown) and Ouss Sahar (SSC Unit Director, Henry County Public Schools)
Bonnie Favero (Preventative Program Manager, Piedmont Community Services) and Damian Wainwright (JROTC Army Instructor, Magna Vista)
Claudia Graham (Office Manager, Martinsville Surgical Associates) and Spencer Koger (Executive Director, Uptown Partnership)
Anna Hatchett (Art Teacher, Henry County Public Schools) and Louis Campbell (Basketball Coach, Martinsville High School)
Jennie Rabon (Office Manager, Rabon Law Firm) and Bobby LaPrade (Owner, Xtreme Martial Arts of Eden)
Tekela Redd (Service Center Director, Salvation Army) and Pres Garrett (Owner, Starling Avenue Cards & Comics)
Jamie Turner (Marketing Director, King's Grant) and Justin Kline (Theatre Teacher, Bassett High School)
Anna Wheeler (Program Coordinator, Dan River Basin Association) and Jacob Frith (The Lester Group Management Program)
More information about each dancer can be found at PiedmontArts.org. Teams are coached by a team of extraordinarily talented dancers and choreographers: Jane Leizer, Janeka Hairston, Stacey Davis, and Catherine Rodenbough.
Voting is open now and will remain open during the big event. Supporters of the arts are invited to vote for their favorite teams. Votes raise money to support Piedmont Arts programming in Martinsville-Henry County. Like Dancing with the Stars, 50% of each team's final score is tallied from votes and 50% is tallied from scores awarded by the judges during the contest. Each $1 donation = 1 vote. You can double your votes ($1 = 2 votes) by applying your total donation toward a Piedmont Arts membership. A $40 minimum is required for this option.
To vote for your favorite Dancing for the Arts teams, visit Piedmont Arts or vote online at PiedmontArts.org.
Dancing for the Arts will take place on Saturday, March 9, at 4 p.m. at Martinsville High School Auditorium. Tickets are $30 for reserved seating, $20 for general admission, and $5 for K-12 students. Tickets are on sale now at Piedmont Arts and PiedmontArts.org.