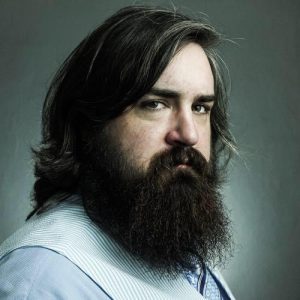 Fox News host and clattering human outrage machine Tucker Carlson has no problem making his opinions known. When Mars, makers of M&Ms, attempted to create a distraction from their child slavery lawsuit by replacing their green cartoon M&M's go-go boots with sneakers, Carlson decried the move as yet another example of corporate wokeness.
"M&M's will not be satisfied until every last cartoon character is deeply unappealing and totally androgynous," Carlson actually said. "Until the moment you wouldn't want to have a drink with any one of them. That's the goal."
Mars ultimately relented and gave the green M&M her boots back, but then introduced a purple M&M that deeply disturbed Carlson.
"Woke M&M's have returned," Carlson informed his audience, many of whom are adults with jobs and responsibilities. "The green M&M got her boots back, but apparently is now a lesbian maybe? And there's also a plus-sized, obese purple M&M. So we're going to cover that, of course. Because that's what we do."
But what other popular topics have caught Tucker Carlson's attention? While rooting through Rupert Murdoch's trash in hopes of finding some leftover gold leaf on the bone of a tomahawk steak, I came upon a trash bag filled with rough drafts of scripts from "Tucker Carlson Tonight." I suspect Carlson's newest opinions will be appearing on the TV screens of Interstate off-ramp fast food restaurants soon, but in the meantime, I'm pleased to provide these actual, completely real, utterly non-satirical hot takes from Tucker "Dog Being Shown a Card Trick" Carlson:
THE SITCOM "FULL HOUSE"
CARLSON: The Woke Broadcasting Company has a new abomination to inflict on our children: a show in which a supposed "widower" lets his "best friend" and his Greek brother-in-law not only LIVE with him, but help raise his three blonde daughters. Maybe this sort of thing is accepted in San Francisco, but we don't tolerate it here in America. Cut. It. Out.
IKEA
CARLSON: Get a load of this, folks: Millennials have a new favorite furniture store, and of course it's foreign. If you want to know which direction this country is headed, just go to an Ikea on a Saturday and watch a bunch of shiftless millennials eating Swedish meatballs (not American) and looking at cheap furniture. Why do these kids need so many chairs? Hey, if you're not willing to work, you have plenty of time for sitting.
SANTA CLAUS
CARLSON: Who has a big white beard, advocates for Communism, and is associated with the color red? No, not Karl Marx; I'm talking about Santa Claus. A morbidly obese — I'm sorry, "body positive" — socialist who gives kids presents they haven't earned? I thought this was still America. 
THE 1968 HANNA-BARBERA CARTOON "WACKY RACES"
CARLSON: The anti-Libertarian pro-Communist agenda of "Wacky Races" serves as yet another example of the sad direction this country is headed. Dick Dastardly, the wealthiest and most cunning driver, is thwarted time and again by everyone from cavemen to monsters to women. Meanwhile, Penelope Pitstop is apparently getting her own spinoff! Feminism strikes again, folks. Wacky Races? More like Wokey Races. 
SERIAL KILLER AILEEN WUORNOS
CARLSON: First we let women vote and drive cars. Then we gave women their own NBA league and let them on the golf course. Then we let them join the military! Were they satisfied? No! Now we have a woman who wants to be a serial killer, that last great holdout of traditional masculinity. Oh sure, when men become mass murderers, it's "toxic masculinity," but I guess it's fine when a woman does it. Talk about your double standards. 
THE BLUEHEAD WRASSE (THALASSOMA BIFASCIATUM)
CARLSON: Can you believe this? Here's a fish that thinks that just because it's a protogynous sequential hermaphrodite, it can just go ahead and change its gender whenever it pleases! Girl fish thinking they're boy fish? I've heard of schools of fish, but I didn't realize they were teaching wokeness!
THE LIBERTY BELL
CARLSON: Can someone explain to me exactly what's worth celebrating about a cracked bell? Does everything deserve a participation trophy now?
PHOTOSYNTHESIS
CARLSON: Whatever happened to going to Applebee's? Plants, it seems, are the ultimate freeloaders. They're so desperate to avoid contributing to the economy that they've "evolved" a complex chemical process to create their own food, free of charge! Weeping willow? More like wokey willow. 
HUMIDIFIERS
CARLSON: "Oh no, the air is too dry and my wittle nose hurts!" That's apparently the mating cry of the millennial, a generation that continues to buy humidifiers when winter hits. A little nosebleed never hurt anyone, folks. The only thing softer than these millennials are their precious feelings, and also their sinuses.
DEHUMIDIFIERS
CARLSON: Cancel culture strikes again, folks. 
THE CONCEPT OF HUMAN DECENCY
CARLSON: Woke.