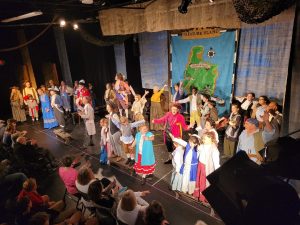 "It was tremendous", is how Director Emily Blankenship-Tucker described the weekend performances of Treasure Island presented by Ferrum College Theatre Arts.
Featuring a cast of thirty-five performers, which included Ferrum College students, community members and youngsters from local schools, Treasure Island played four sold-out performances on April 20-23. The audience enjoyed an adaptation by R. Rex Stephenson that told the story with rousing musical numbers, of how Robert Louis Stevenson wrote his novel, Treasure Island. Emily Blankenship-Tucker directed and composed the musical score.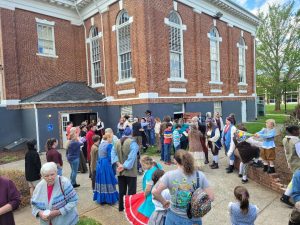 The audience enjoyed the play's combination of music and humor, reacting with loud cheers and applause for the entire cast as they closed out the show with the final musical number. As the audience left the theatre, they were greeted by the cast and crew who lined up outside to thank everyone for coming. It also became a chance for the audience to let the cast and crew know how much they enjoyed the show and their performances.
Treasure Island was the culmination of weeks of rehearsals and hard work by the performers and stage crew, during which the various groups of performers, young and old, came together to put on the play.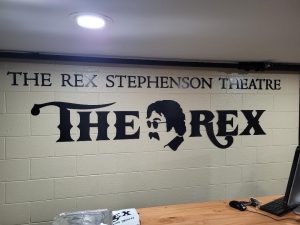 "This was an amazing time for the kids," said the parent of a young actress. "Getting to spend time with the adult and college performers was such a positive experience. They were so amazing with the kids, and it showed in how great they did when it was showtime. They won't ever forget the time they spent working on and performing the show."
Treasure Island also marked the first performances in the newly renamed Rex Stephenson Theatre.
"He's dedicated his life and career to this theatre, and he's taught us all so much," said Emily Blankenship Tucker. "We all know how to do this and know how to create theatre that is engaging and exciting for audiences because of the lessons we learned from Rex, and we're proud to carry on that tradition."