The Floating Lotus, an event to honor your loved ones, celebrate a friendship or commemorate a special event in the most beautiful and memorable way, will return September 28 at 6:30 p.m. The event will be held in Riverview Park, 1072 Irisburg Road, Axton on property that is adjacent to the Smith River Sports Complex.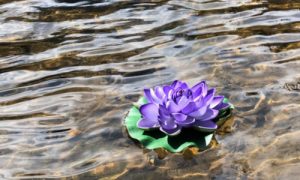 Your purchase, 100 percent, will support the protection of our local natural resources and provide environmental education for thousands of youngsters.
Lotus flowers represent eternity, purity and divinity. Buy yours and set them in the water at sunset. Bring a camp chair and blanket and reflect and remember and celebrate in a beautiful setting.
If unable to attend the event, the Dan River Basin Association (DRBA), which is sponsoring the float, will ensure your flowers are set afloat.
The cost is only $20 for up to 30 Lotus Flowers by visiting https://www.danriver.org/lotus. At the event, purchases are cash only, $5/each flower, or $20 for up to 30 flowers. 
Participants will also get a voucher for a free slice of The Boardwalk Baker cheesecake and a drink.
The Lotus Flowers are made from recycled materials, and this year, you can take your Lotus Flowers home with you after the event.
All flowers will be retrieved from the water after the event.