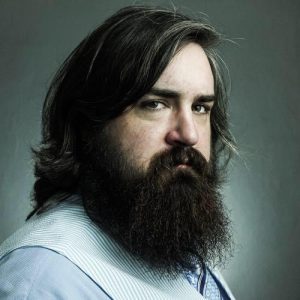 My favorite sketch comedy show of all time is "Mr. Show with Bob and David," which ran on HBO for four all-too-brief seasons between 1995 and 1998. Mr. Show is one of my comedy polestars, a bright guiding light whenever I sit down to write something funny. 
One of the main actors on Mr. Show was a fellow named Jay Johnston, and he starred in what might be my favorite sketch of all time. In the sketch, Johnston plays an old-timey explorer who has returned home to tell his parents the story of how he climbed Mount Everest. Just as he's getting to the exciting climax of the story, he trips over a drink cart and knocks his mother's vast thimble collection off the wall. Everyone laughs at his pratfall, and then they help him replace all the thimbles. He begins telling the story a second time, only to trip again and knock all the thimbles off the wall. Over the course of eight minutes, Johnston knocks the thimbles off the wall over and over again, stretching the premise so far beyond the point of absurdity that it stops being funny, keeps going, and then becomes one of the funniest things I've ever seen in my life.
I've watched this sketch dozens of times. It's a flawless piece of comedy, and Johnston's hilarious physicality sells it. 
Unfortunately, I have a hard time watching the sketch now. 
On March 4, 2021, the FBI tweeted two photos of a man who took part in the violent insurrection at the U.S. Capitol on Jan. 6. Comedy fans worldwide noted that the guy, dubbed No. 247 by the FBI, looked EXACTLY like Jay Johnston. 
Turns out, he didn't just look like him.
To be fair, the FBI has yet to publicly confirm the man's identity, but there's little question. Several comedy figures who know Johnston confirmed it was him and that he had told them of his plans to attend the insurrection. Johnston was let go from the TV show "Bob's Burgers." He hasn't appeared publicly or made a statement since, not even to deny the accusations. The rumor is that he fled to Canada, but no one knows for certain.
I think about Jay Johnston often. I do a Google search every month or so to see if there are any updates. I think about the photos of him from the insurrection, his eyebrows furrowed, his mouth downturned, his face a mask of anger. Who is this hateful man who, according to the FBI, "took part in the violence" at the Capitol? This can't be the same lovable comedian who played "Choo-Choo the Hurkey Jerky Dancer." Choo-Choo wouldn't do that to me.
At the risk of psychoanalyzing myself, I realize that a large part of my fascination with this case isn't precisely about Jay Johnston. He's merely a stand-in for all the people I know who are a lot like him.
There's no sense in beating around the bush: I know a whole lot of people who changed around the Trump era. These are people I liked, people I respected, people I knew to be kind and good-hearted. Over time, they became angry at the world. Every conversation would wind its way back to team politics as surely as the rivers flow to the ocean. They would say strange things, hateful things, statements that would have been alien coming from their mouths just a few years earlier.
I remember seeing a friend of mine at the grocery store a couple of years ago, a fellow I had met at a march for equality, of all things. To my surprise, he was wearing a MAGA hat, and he immediately started talking to me about how the Clinton family eats babies and all this other Q-Anon conspiracy theory madness. I told him I didn't feel like talking politics.
He ignored that and volunteered that he'd had people ask him if he was afraid someone was going to knock his MAGA hat off his head. He wasn't worried, he said; he packs heat, and if someone tried it, he would shoot them.
I got the impression he was looking forward to the opportunity. 
I barely recognized my former friend that day, and he's not the only friend I've lost to the cult of hate. And make no mistake, it is a cult of hate and cruelty. I'm haunted by the quote from a lady named Crystal Minton who, in January of 2019, voiced to a reporter her frustration over Trump's role in the government shutdown:
"I voted for him, and he's the one doing this," she said. "I thought he was going to do good things. He's not hurting the people he needs to be hurting."
She didn't vote for Trump to make everyone's lives better; she voted for him in the hope that he would punish the outgroups she didn't like. A lot of folks feel that way, I suppose; they usually just don't come right out and say it. 
We've all become inured to this hateful madness. It's just a part of life. I routinely drive through Boones Mill — I'm sorry, "Trump Town" — and I don't give it a second thought. Yet when my cousin came to visit from D.C. and asked me what on Earth had happened to that quaint little town on 220, it took me a moment to realize what he was talking about, that it's not normal to convert an old church into a shrine to a politician, complete with towering cardboard cutouts that might as well be literal golden calves. If I built a shrine to former Vice-President Walter Mondale along a major highway, folks would assume I'd lost my mind, and they'd be right to. But you can go to Trump Town and get a Trump Burger and some Trump Ice cream and no one bats an eye. 
And now, on a daily basis, the Jan. 6 committee is producing remarkably damning evidence of an insurrection against the U.S. government orchestrated by the then-sitting President, and his supporters are more concerned about the latest revelations from Hunter Biden's legendary laptop and putting stickers on gas pumps than a literal coup d'état on American soil. 
I'd like to think that this moment of madness in the history of our nation is only temporary, and that one day — possibly even within my lifetime — it will pass. We'll be able to go back to the days when having a political disagreement meant arguing about the merits of a flat tax, not which groups of people are deserving of basic human rights. But I'm not so sure.
In the past, I would have consoled myself with some old episodes of Mr. Show. Thanks a lot, Jay.